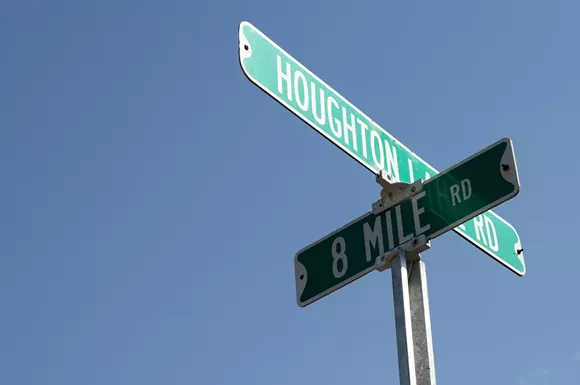 Eminem fans have one shot to seize a piece of
8 Mile
movie nostalgia on the 15th anniversary of the rapper's iconic film.
Eastpointe is replacing all its street signs and selling the old ones, and that includes about a dozen and a half marking the iconic dividing line between Detroit and its northern neighbor.
Eminem's
8 Mile
was a mega-hit and won him an Academy Award in 2003 for "Lose Yourself." The song from the movie's soundtrack was his first No. 1 hit, according to
Rolling Stone
.
A donation of $25 will get you an Eight Mile sign or one for Gratiot Avenue, the east side's cruising equivalent of Woodward Avenue. "This has blown up big," Steve Duchane, Eastpointe's city manager, said of the sign sales.
He said he expects interest to be intense for the Eight Mile signs, not only for their significance in metro Detroit but also as the anniversary of the movie's November 2002 release nears. He's heard some buyers intend to auction the signs for charity or expect to sell them for much more than the $25 the city is asking.
Since the sale was announced in early March, hundreds of signs from throughout the city have been snapped up and a number of streets are sold out. Buyers can get local street signs — each 24 inches wide by 6 inches tall — for $5.
"People were lined up at City Hall on a Monday. They were there to get their signs before everyone else could," Duchane said.
Heather Bastuba of Sterling Heights wants a sign for Camden, the street where she grew up and where her parents were married. But when she stopped at City Hall recently, they weren't yet available.
Instead, she took the opportunity to buy one as a gift for a longtime friend who lived nearby on Universal and was married in St. Veronica Church, also on Universal. The sign will be added to a window box her friend's husband is building that will include pictures of her childhood home and St. Veronica Church.
Selling the signs is somewhat unique for a municipality. Duchane, who has 38 years of municipal governance on his resume in cities such as Sterling Heights, Lincoln Park, Howell and Marysville, California, had never heard of a city selling its old street signs. Usually, cities sell the signs as scrap metal.
Duchane said he's gotten lots of interest from former residents and even out-of-staters. "East Detroit (the city's former name) is the ancestral home for a lot of Macomb County."
Bastuba agrees. "A lot of people who we grew up and who moved out … have really fond memories of growing up in that city," she said. The signs are "a piece of your history, a piece of your childhood that you can hold onto."
The city is about halfway done with its sign replacement, prompted by a change in federal and state rules to make street signs more visible using larger lettering and more reflective material.
The multi-year effort, which includes other municipal signage throughout the city, will cost Eastpointe $80,000-$100,000, Duchane said. The project is expected to be complete by end of summer or early fall.
The money Eastpointe gets from the sales will go to the city's Street Maintenance fund to offset the cost of new street and municipal signage throughout the city.
Signs are available for purchase at the Treasury Department at Eastpointe City Hall between 8 a.m. and 4:30 p.m. Monday through Thursday. Signs are $5 for local streets, $15 for major streets and $25 for Gratiot or 8 Mile.