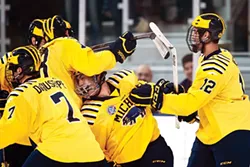 Now that the Pistons and Red Wings are in full throttle, winter is just around the corner. The leaves are falling — a little too quickly — and you might find yourself already scraping off the windshield now and then.

One gift with the change of seasons comes a bundle of lesser-known sports — not less important or less entertaining, mind you. One of those sports is college hockey and, specifically, University of Michigan hockey.

College hockey is a truly spectacular sport to watch. Similar to college basketball — but even more so — it's a "pure" game at a time when pureness is nearly absent in most professional sports.

College hockey is great because a lot of these players will never play professionally. They grind it out day in and day out for years, all for a love of the game and a college education.

The Wolverines come to mind because U-M's hockey program has been a collegiate powerhouse for a long time. Along with the Spartans of Michigan State, the Wolverines make hockey fun for fans from Ann Arbor to East Lansing.

U-M had a notable season a year ago for those who didn't know: the Wolverines and head coach Red Berenson ended a 22-year NCAA winning streak. This was one of the longest of its kind and so pretty disappointing for the Wolverines faithful.

While following up a tough season like last year's can't be easy, Michigan has something brewing in Ann Arbor (with a current No. 2 national ranking). Led by captain Mac Bennett, the Wolverines are at 6-1-1 a month into the season. Their record includes victories over then-No. 4 Boston College, then-No. 13 New Hampshire, and then-No. 14 Boston University.

A big difference between this year's team and last year's is leadership. Though captain A.J. Treais was a standout player last season, it never seemed like there was that vocal leader in the locker room needed to take charge when things weren't going well. This year, not only do the Wolverines have a terrific captain in Bennett, but sophomore Andrew Copp and senior Derek DeBlois have seamlessly stepped into leadership roles as alternate captains.

Now there are a lot of new faces in Ann Arbor — the freshmen class has played well above its age, thus far. But the biggest change is that this year marks the inaugural season of the Big Ten Hockey Conference.

No longer are Michigan, Michigan State and Ohio State in the CCHA; they, along with other regional hockey schools like Minnesota, Wisconsin, and Penn State all reside within the newly formed Big Ten.

What does this mean for the Wolverines? For starters, Big Ten Network coverage; more revenue from TV, and a lot more non-conference games. (Notice the influx of East Coast teams visiting Michigan.)

Berenson, who played for Michigan when there was a Big Ten conference — yeah, he's been around the block a few times — knows what it's like to play Big Ten hockey. He also knows the importance of strong leadership in the locker room and on the ice.
"If your seniors are the leaders and the dominant players on your team, then you have a chance to have a good season," Berenson said at Big Ten Media Day. "That will bring your younger players up a lot quicker and bring them into plays, and it will set the example for them."

With guys like freshman forwards JT Compher and Tyler Motte, and freshman goalie Zach Nagelvoort, each of whom has played a significant role early on — it's just as Berenson said: the U-M team is benefiting from having strong, positive leaders to guide them. Captain Bennett is just that — goofy when the time's right, but serious when need be.

I don't want to jinx anything or anybody, but this team seems bound to start a new NCAA streak. Granted it's early (probably way too early for this), but from the surface, there's doesn't seem to be any glaring holes in this U-M team compared to a year ago.

So wherever you live, check out a game at Yost — or even the home of the Spartans: Munn Ice Arena. The atmosphere tends to be electric.