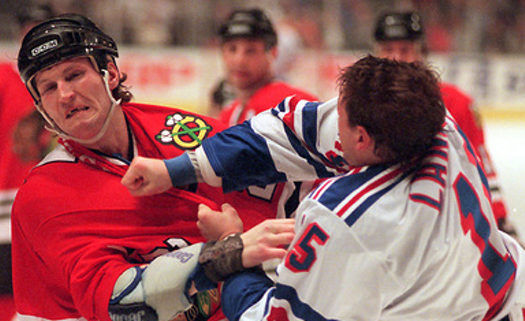 Here's a little "old-time hockey" for you, a decisive "enforcer vs. enforcer" match from Oct. 17, 1987, when Red Wing Bob Probert grabbed Toronto Maple Leaf Wendel Clark and didn't stop pounding until his prey fell to the ice and refs stepped in to end the lopsided brawl. A dazed-looking Clark was led away.
As Probert beatdowns go, it wasn't necessarily the most mythic take-down. It was the dramatic interlude of at least two other major confrontations between the men. Clark, aka "Captain Crunch," was another hockey player with a reputation for brawling. In his rookie year, he earned 227 minutes in the penalty box. At 5-foot-11, Clark was often the smaller guy in his brawls, but he earned a reputation as a bulldog.
As one fan put it well
, "Clark's ability to lift the entire team with a drop of the gloves was unparalleled."
Probert and Clark's
first major confrontation
took place Dec. 27, 1986, with the men throwing punches at each other for about 30 seconds before they appeared to tire.
A second long brawl
came Dec. 9, 1992, in a drawn-out bout that involved more wrestling and grabbing than punching.
But many fans of that "old-time hockey" will appreciate the decisive bout of 30 years ago. Playing an away game in Toronto, Probert slugged the crap out of his old nemesis, hammering Clark again and again as the men whirled around on the ice, until a still-game Clark was left grasping at Probert's leg down on the ice. While led away by a ref, a delirious-looking Clark managed a small grin. Let's go to the tape.