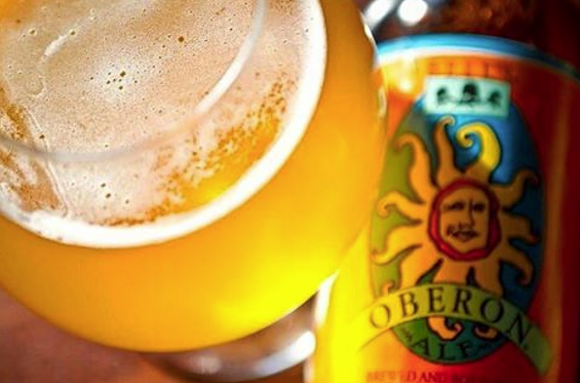 Doing my undergrad in Kalamazoo at WMU automatically turned me into an Oberon aficionado. The beer is practically sacred in town and Oberon Day is Kalamazoo's equivalent of Christmas Day. I even had a professor cancel class on Oberon Day so we could all enjoy one of the first signs of Summer's return.
In metro Detroit, the release of Oberon isn't treated so sacredly, but that won't stop some from heading to a midnight tapping release on Sunday, March 26, or to the bar Monday to get a pint of the wheat ale with that hint of succulent orange.
Here are a few metro Detroit bars
where you can get a glass of the good stuff.
One Eyed Betty's -
175 W Troy St, Ferndale

The events starts at 11 p.m. on Sunday, March 26. The Oberon will be tapped at midnight and a King and Queen will be crowned at the bar, too.
Ashley's -
388 S State St, Ann Arbor

Starting at 2 p.m. on Sunday, March 26, you can bob for apples and enjoy Oberon at midnight.
Fraser's Pub -
2045 Packard St, Ann Arbor

An Oberon Day pub crawl will start at Fraser's at 11 a.m.
Honest John's -
488 Selden St, Detroit

Oberon will be tapped Sunday night at midnight and then flowing on Monday all day long.
Buffalo Wild Wings -
1234 Walton Blvd, Rochester Hills

Grab some tasty chicken wings and a pint of Oberon at midnight on Sunday.
Gusoline Alley -
309 S Center, Royal Oak

Oberon will be tapped at midnight and you can enjoy it all day long on Monday.
Mr. B's Rochester -
423 S. Main St, Rochester

Oberon will be flowing all day at Mr. B's Rochester.
Rock on Third -
112 E. 3rd St, Royal Oak

Get an Oberon at midnight, or on Monday.