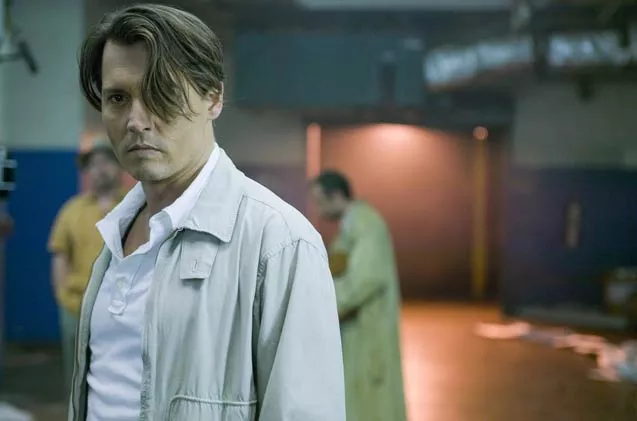 Booze-soaked, chain-smoking, cynical and degenerate reporters went extinct with the typewriter, yet on the big screen their legend lives on ad infinitum, and none looms larger than that of Hunter S. Thompson. The brilliant and difficult father of "gonzo" journalism has a devoted cult, and should continue to have a screen presence, at least as long as Johnny Depp continues to proudly hoist the freak flag of his fallen friend and idol. In keeping with the author's anarchic spirit, The Rum Diary is a sporadically brilliant mess, caked with dust from sitting on the shelf for three years — fitting since the half-finished source novel moldered in a desk drawer for decades.
This is less a narrative than a string of memorable incidents loosely strung together around familiar themes. Despite being a decade too old for the role, the ageless Depp stars here as Paul Kemp, Thompson's alter ego, a youthful would-be novelist in the early '60s who takes a gig in Puerto Rico at the floundering San Juan Star. The joint is a broken-down cesspool of broken dreams and squandered talent, where a bullpen full of wasted writers shamble through their days in a rum-drenched fog of tropical malaise. The delightful Richard Jenkins plays the dog-eared editor, who suspects Kemp is a malcontent in training, but hires him anyway, since there are no better candidates. Staffers have to sneak into work via a back alley, to avoid the throng of angry unemployed protesters. Jenkins coldly observes that such scenes don't occur on the mainland as much, since "The average guy doesn't rock the boat because he wants to get on it," a notion which seems true to this day. The landed gentry are represented by Aaron Eckhart's, oily, tennis-whites golden boy, the front man for a group of investors seeking to build luxury hotels in a sneaky land grab of a nearby island, partially used as target range by the Navy, and to hell with the handful of residents they might trample on. Kemp is seduced, not just by the developers' easy cash and fast cars, but by the slinky Amber Heard, Eckhart's arm-candy, seen here as pure sex in a wholesome all-American-blonde frame. She's walking trouble in a cocktail dress, but Kemp has a knack for stepping into escapades: blowing flames on a cop, cockfighting, witchdoctor curses and automotive mishaps. Our hero is caught between the forces of corrupted capitalism and his own foolish romantic notions of defending the powerless, only dimly aware he's caught up in a hopeless banana republic noir.
Director Bruce Robinson has a sporadic résumé, but his 1987 cult favorite Withnail and I remains a favorite tale of drug-fueled self-indulgence. The Rum Diary will also earn fans, though it is spotty and inconsistent. Gems of Thompson's eclectic wordplay peek through Depp's muddled delivery, as in the middle of his first LSD trip, when he calls his partner's tongue an "accusatory giblet." Though not as inventive, this makes a fine bookend to Terry Gilliam's Fear and Loathing in LasVegas, which came first, but was written a decade later, and also stars Depp. Contradictions like these were Thompson's stock and trade, and if his burly, rambling outrage can never be fully trapped by a popcorn picture, it can be a hell of a lot of fun to try.