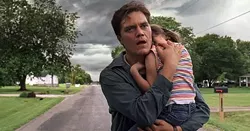 Though it is inevitable that such heavy-hitters as Brad Pitt, George Clooney and Ryan Gosling will dominate this year's Oscar horse race, it would be a terrible shame if Michael Shannon (and Jessica Chastain, for that matter) were overlooked for their performances in Jeff Nichols' beautiful and insinuating Take Shelter. Both deliver extraordinarily rich and textured characters in what could be the finest drama of the year.
Curtis (Shannon) is a well-liked crew chief at a small mining company in Ohio. He and his wife Samantha (Chastain) live on the lower rung of middle-class life but are clearly happy. They have a modest home, money saved for vacation, and a top-tier health plan. This is particularly important because their 6-year-old daughter is hearing-impaired and scheduled to receive a cochlear implant.
But Curtis starts having bad dreams. Vivid, horrific nightmares that signal something terrible coming, something apocalyptic. Suddenly he is overwhelmed by dread and paranoia, fearing for the safety of his daughter. Thunder booms, lightning tears across the sky, and oily, copper-colored rain falls. When the dreams cross into his waking hours, Curtis begins to suspect that he might be wrestling with mental illness. His mother (the terrific Kathy Baker) abandoned him as a child while in the throes of a schizophrenic episode, and he now fears he has inherited her illness. Research, sleeping pills and counseling sessions at the local clinic can't assuage Curtis' certainty that the world is about to crumble. He prepares by building an underground shelter, sending his friendships, marriage and work life into a tragic downward spiral.
It doesn't take much to read into the allegorical underpinnings of Take Shelter. Nichols is channeling the deep fears that plague Americans today, capturing the tenuousness of a recession-era society that provides few safety nets and the ever-mounting sense that things are headed for disaster. Economic collapse, environmental chaos and social mistrust are reflected in Curtis' anguish, making Take Shelter one of the most effective portraits of anxiety put to film.
Nichols creates the kind of quiet malevolence that Roman Polanski used to excel at. But what makes his film hit harder is the specificity of Curtis' crisis. Despite Adam Stone's lyrical cinematography — filled with foreboding storm clouds and sinister shadows — there is an authenticity to Curtis and Samantha's life, one filled with kitchen table discussions about insurance co-pays and workplace protocol.
Nichols is particularly sensitive to the way people in small towns relate to one another, highlighting how Curtis' visions of shadowy intruders and unnatural storms begin to isolate him. These dream sequences are as disturbing as they are effective, since they're stripped of any narrative logic, depicted instead as distortions of and threats to the things Curtis cares most about. So while we, the audience, understand his torment, his actions seem both baffling and frustratingly negligent to the people around him.
Shannon brilliantly underplays the role, bringing a delicate humanity and introspective approach to his character's inner turmoil. He plays Curtis as an intelligent guy struggling to cope with changes no one else can understand, petrified that he's losing his ability to provide as a husband and father. It's an enormously compassionate performance that earns our sympathy.
Chastain is equally effective, capturing Samantha's divided faith and fear in her husband. It's heart-wrenching to watch her balance a wife's love against the threats that face her family's future.
With nuance and grace, Take Shelter explores the pain, uncertainty, and despair that "madness" brings to an otherwise rational person, never once descending into cheap sentiment or easy answers. More impressively, it's twist of an ending offers up a note of cautious (if metaphorical) hope, as Curtis and his family face the coming storm the only way they know how — together.
Showing at the Landmark Maple Art Theatre, 4135 W. Maple Rd., Bloomfield Hills; 248-263-2111.