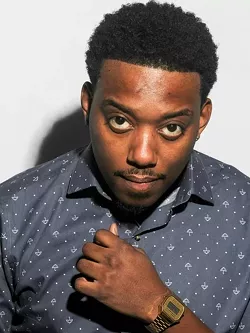 With the holiday season here, there's no better time to be in a good mood — and one sure way to keep it going is with lots of laughter. And Motor City comedians Chris Powell and Josh Adams dish out all the humor, even as we discuss why they choose comedy, their fears, relocating from Detroit, and more.
Powell, aka "Comedian CP," decided to pursue comedy as a career because he was "sick of being the funny guy at the office, at school, in the frat, everywhere, " he says. "I was talking to this dude, Eric Thomas — a big time motivational speaker, he used to be my boss. He told me to get paid for what I do. Do it for real or otherwise you're just a clown."
Powell talks about how this made him step-up and get serious about making comedy his career. Since then, he's created characters such as "Reggie Bo" (who you have to see on his
YouTube channel
to believe), made an appearance on Fox's hit series
Empire,
and is steadily doing shows in Los Angeles, Chicago, here in Detroit, and all over America.
For Josh Adams, things started differently. He says he got into comedy from watching TV shows like
The Fresh Princ
e,
Martin
, movies like
Low Down Dirty Shame,
and standup by Tommy Davidson. "It was just something about what they were doing, I knew I wanted to do that," he says. Comedy came naturally for him, and he says the first time he was onstage he knew, "oh, this is it." He has been doing countless shows all across the country and has made appearances on B.E.T.'s
Apollo Live
and Fox's
Laughs
.
Of course, it's not all jokes and laughs when you step into the world of comedy. Some would say you have to be fearless. But can fear be a good thing? "What scares me about it (this career) is that, it takes you away for a minute," Adams says. "You've got to put a lot in to get something back. Missing out on stuff with my daughter, that scares me. Daddy-daughter dances, graduations — missing those milestones. But if I want to give her a better life, the life she deserves, I can't be around all the time. It hurts, but hopefully she'll understand why I'm doing this." There's a certain level of maturity and selflessness that allows someone to live and work with the betterment of another in mind, setting aside one's own temporary happiness. That alone is no joke.
Powell, meanwhile, is feeling the fear from others and within himself for reasons you'd might not expect. "I think people are threatened by Detroit comedians," he says. "There's a certain ferocity in a Detroit comedian. We already have a king's respect. A lot of comedians from out of town don't mess with us — I don't know why. We are dominant, we take over rooms."
Powell also shares his fears about Hollywood. "I don't want Hollywood to get used to the black man playing the dummy, someone that's not educated, not multi-dimensional, you know?" he says. "All the things that they don't think we are but think they are, if that makes sense. I'd rather be the guy doing the beating then getting beat up on all the time. I don't want to be placed in a box."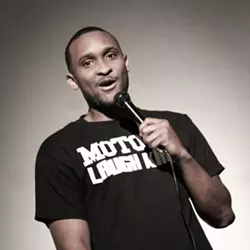 Speaking of Detroit and Hollywood, do Powell and Adams think relocation is necessary? Do they advise young comedians to leave Detroit? "No, but that's where the money's at," Powell says. "They can never take home from you. This is my home. I hope Detroit continues to get better and better, so I can come back and buy some shit.," he laughs. "But I'm not going to stay, just rot until it gets sweet, then be old as hell like, 'Wow, look at the new railway.' You feel me?"
Adams has a completely different perspective. "No, I feel like it's somebody's job to find you," he says. "You just have to put it out there — create content, build your buzz. Once your buzz is big enough, Hollywood, New York — they'll come get you."
Success — is it talent or luck? Adams thinks it's a little bit of both. "I think there are people who get on just by being in the right place at the right time," he says. "But there are also people who are great at what they do and work they ass off to get where they are."
"I also feel that people need to understand and get a clear vision of what they want," Powell adds. "It's not so much how you get on, but where you see yourself."
To continue missing out on Comedian CP and Josh Adams would be a joke — and you won't be kidding anyone but yourself. Follow them on Instagram for all upcoming shows, latest announcements and more:
@comediancp
and
@iamjoshadams
.
Comedian CP will host "Danksgiving Smokeout"; starts at 9 p.m. Wednesday, Nov. 25 at the Baltimore Gallery, 314 E. Baltimore, Detroit; see
danksgiving420.com
for more information.
Catch Adams at "The First 10 Years" (anniversary comedy show); shows at 8 p.m. and 10:30 p.m. Friday and Saturday, Nov. 27-28 (four shows) at 1917 American Bistro, 19416 Livernois Ave., Detroit; tickets are $10.