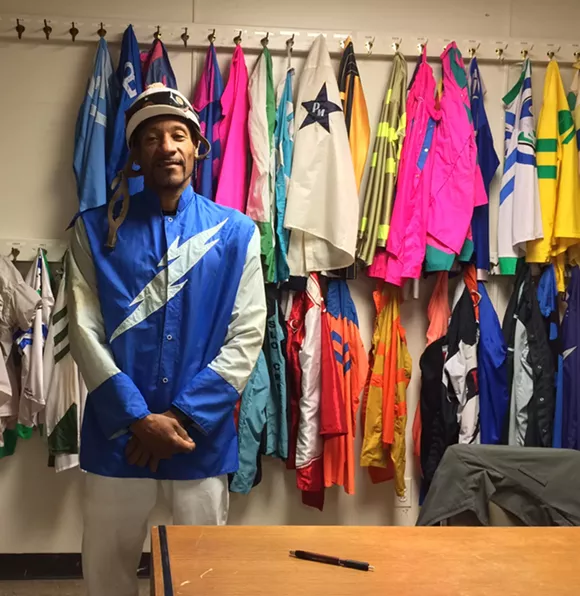 When thoroughbred racing returned to Hazel Park after a 30-year hiatus in 2014, former jockey Wayne Barnett found himself toiling anonymously in the shadows, galloping horses before an empty grandstand in the morning and loading horses into the starting gate at night.


The Inkster native, who'd gotten his start riding at Hazel Park in the early 1980s, had won nearly a thousand races all across the country. When he was just a teenager, Barnett moved out east and apprenticed under legendary jockey Angel Cordero Jr. At 19, he even got himself a mount in the '85 Preakness.
Riding throughout Maryland and West Virginia, Barnett soon became the third leading jockey in the country. But when a stroke affected the use of his right hand in the mid-1990s, he called it quits. Barnett moved back home to Michigan and, after a 12-year hiatus, made a brief comeback in 2009-2010 with limited success at the short-lived Pinnacle Race Course.
Then just eight weeks ago, at age 50, Barnett staged yet another — more improbable — comeback.
"This year I was just galloping horses in the morning," Barnett says. "I wasn't planning on riding."
But with all of his early-morning workouts, Barnett noticed he was close to his old riding weight and began silently contemplating another comeback.
"Gary must've sensed it," Barnett says of longtime trainer Gary Terrien. "He offered to be my agent, and from then on he's been making me look like a superstar."
His recent winning streak has been incredible. Since August, Barnett has won more races at Hazel Park than any other jockey. In just 98 starts, he has 23 wins and credits Terrien for his hot streak. "Ever since I came back," Barnett says, "Gary's been putting me on Cadillacs!"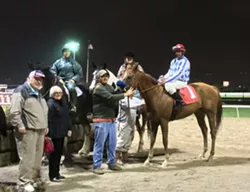 Barnett first got interested in horse racing through his childhood friend Patrick White. "Patrick took me back to the barn here one day when I was about 8, and I've been hooked on horses ever since."
Perhaps more improbable than his most recent comeback is the fact that Barnett ever rode a horse in the first place.
"When I was 10, I had an allergy test," he says. "The doctor told my dad I'd never be a rider because I was allergic to hay, straw, horses, dogs, cats, you name it. But I stuck with it."
And 40 years later, Barnett is on one of the hottest streaks of his improbable career.
Terrien marvels at his client's comeback.
"He's riding like a man possessed."
Hazel Park will host its final night of live racing in 2016 tonight. Post time for the first race is 7:30 p.m. Admission is free. Hazel Park Raceway is located at 1650 E. 10 Mile Rd. For tonight's entries, visit equibase.com.