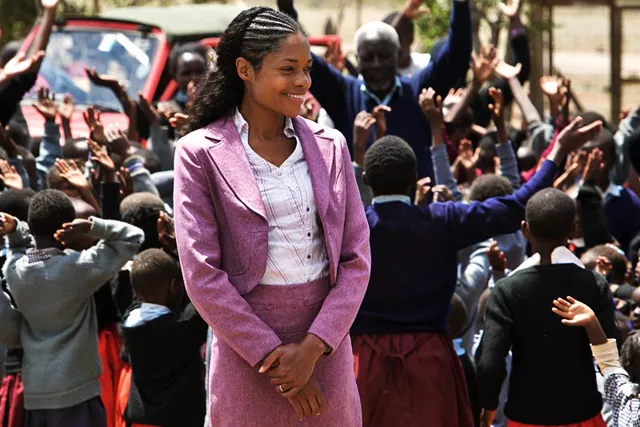 The First Grader
GRADE: B
In 2004, when the Kenyan government at long last declared the right to free elementary schooling for all citizens, one of the first students to grab a pencil was Kimani N'Gan'ga Maruge. The only difference between him and his wide-eyed grade school classmates is roughly eight decades of life experience. The elderly man simply wants to read; to receive the education could never afford, and maybe regain some stolen dignity in the process. Maruge is veteran of the Mau Mau rebellion in the '50s, where factions of Kikuyu tribe battled the British colonialists and their supporters; including many of their own families and countrymen. Some of those buried tribal enmities run very deep, and the legacy of the rebellion remains untidy and painful to many still bearing grudges. Prison camp survivor Maruge's presence in the over-crowded rural classroom sends community leaders into an uproar, but he's firmly defended by teacher Jane Obinchu (Naomie Harris) who doesn't view him as a saint, but respects the huge personal debt he paid in the nation's struggle for independence.
Based on real events, this heart warming, well-intentioned film is engaging and evocative, despite some clumsy and ham-fisted direction by journeyman Justin Chadwick (The Other Boleyn Girl).
The storytelling is direct and straightforward, but often too on the nose. There are too many explicit flashbacks to the tragedies Maruge suffered during the war. The suggestion of atrocity is usually enough to get the point across, but Chadwick keeps hammering us with gory details and overwrought scenes of tragedy. He's equally heavy handed with the domestic squabbles of Jane and her husband, who is of course opposed to his wife's lonely crusade. When not bathing in melodrama, the tone is so aggressively uplifting that you'll half expect Paul Simon to hop out of the bushes and start playing side one of Graceland.
The First Grader is mawkish and manipulative; but so what?
The starkly beautiful African backdrops, and strong, heartfelt performances by both adults and children overwhelm the script's hokier instincts, and give us a noble cause worth rooting for. With a man this brave, and a goal so basically good and thoroughly wholesome, cynicism seems like an affront.
Showing at the Maple Art Theatre 4135 W. Maple Rd., Bloomfield Hills; 248-263-2111.