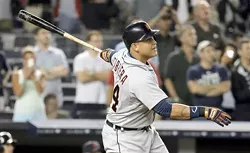 Following up a triple-crown-winning season isn't easy.
Typically, what follows for a ballplayer who has a great season, having inflated fan expectations to the stratosphere by nothing other than having a good season, is nearly always disappointing. But for Miguel Cabrera, who's currently on pace to finish this season with more home runs, RBIs and a higher overall batting average — that's not the case.
He is absurdly good and no one doubts his ability. But during the past few weeks, he's accrued a laundry list of injuries, including his shin, knee, abdomen and even a hip flexor.
We've all seen it; running around the bases at a much slower clip than normal, all with a pained expression on his face; when he's attempting to field a groundball and can barely bend all the way over to field it. These things are obvious, his pain is obvious and although we don't want to ask it, I will: Should he be playing?
If the answer is based on whether he can produce, the answer would be yes. He's been on a tear the past two weeks — all while injured. For example, spanning back to Aug. 4, he has six home runs and 16 RBIs. And not only has he been statistically mind-blowing, but he's been more clutch than normal; yes, that's possible.
However, is the end justifying the means? Tigers manager Jim Leyland was asked on his decision to play Cabrera through the injury. Leyland basically said that Cabrera wants to play and thinks he's healthy enough, so he's going to play.
Let's be honest here. Anybody who's ever played sports, or even seen a sports movie, knows a majority of the players will always say they can play — and want to play — when they're hurt. It's the competitive nature of athletes. That doesn't mean they should be playing, though.
It's simple: Just because Cabrera can play doesn't mean he should.
I'm no doctor, but couldn't he be doing himself future harm by not getting fully healed? Could these injuries be adding up, not by coincidence, but because that's what happens when a player compensates for injuries?
Look at the Redskins' Robert Griffin III. He was playing with an injured knee in last year's playoffs, thought he could and should be playing, and suffered a much worse injury as a result of it.
You'd hope that the Tigers have thoroughly tested and cleared Cabrera to play. You'd definitely hope that there's more to this decision than him telling Leyland he can play and Leyland letting him. As we saw with Griffin, just because a player wants to play does not mean it's a good decision for him or for his team in the future.
Another interesting side note to this whole injury dilemma is that Cabrera is in the hunt for another triple crown. If he were to rest his ailing body and miss a week or so, those games would be detrimental to his repeat chances, especially since Baltimore's Chris Davis does not appear to be slowing down either.
The Tigers have about 40 games left in the season and hold a firm lead in the division race. There isn't any doubt that the Tigers want and need a healthy Cabrera for the postseason push; at the end of the day, a World Series is the end goal, right?
In an ideal world, Cabrera will continue to play injured, maintain his MVP pace and help the Tigers win their first World Series in 29 years — all while being healthy come the playoffs, if not sooner. But things don't always work out the way we want. Just ask Redskins fans if it worked out for them in last year's playoffs.
But if Cabrera keeps piling up injuries without rest, at least we'll know who to blame come the postseason. There are two things we all can agree on: The Tigers need him to make a post-season push; and it's about time to finally win that elusive World Series championship.
Michael Laurila writes about sports for Metro Times. Send comments to [email protected]