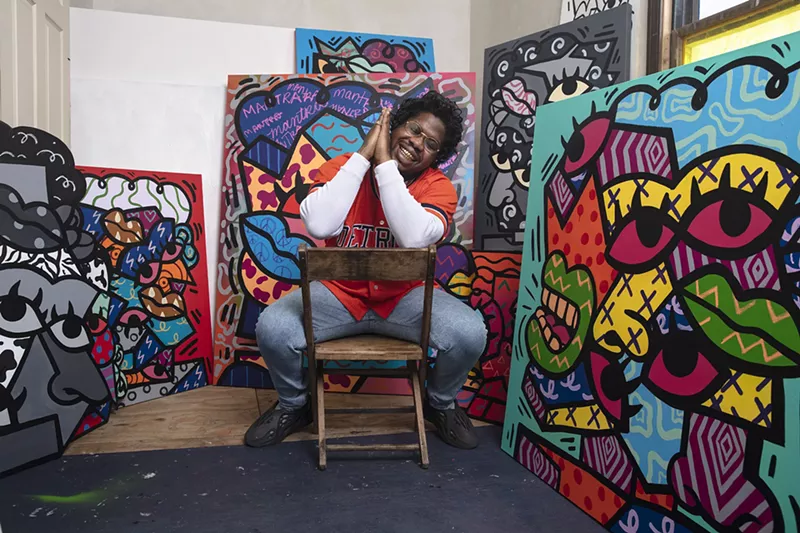 This feature highlights a different local artist each week. Got someone in mind you think deserves the spotlight? Hit us up at [email protected].
Artist of the week: Sheefy McFly
If Detroit had a cultural mascot, it would be Tashif Turner, aka Sheefy McFly. The rapper and DJ turned painter, muralist, and weed entrepreneur represents the city in everything he does. His painting style meshes neo-expressionism and pop art inspired by the late Keith Haring with a distinctly Detroit spin.
Take, for example, his 2018 piece near Detroit's Louisiana Creole Gumbo for the Murals in the Market festival, which shows characters twerking, jitting, and wearing Cartier Buffs next to text that says "Detroit never left."
Likewise, McFly has never abandoned his dreams of becoming a renowned, multifaceted artist. He attended the College for Creative Studies where he studied illustration and fine art for roughly a year and a half before dropping out for financial reasons in 2009. "I'm a Detroit artist, so I don't think I need to pay to be an artist in Detroit," he once told Metro Times.
After that, he committed his time to throwing parties, making hip-hop and electronic music, DJing as Edward Elektro, and working on his visual art.
He's released music with Moodymann's Mahogani Music label, performed at Movement electronic music fest, and was an Artist in Residence at the festival in 2022 where he created an homage to Detroit-bred ghettotech and jit dancing.
He will be performing at Movement on the Detroit stage this summer.
In 2019 McFly was arrested while painting a city-sanctioned mural when officers assumed he was just another graffiti writer vandalizing city property. The "TECHNO IS BLACK MUSIC" mural with a coney dog turned cartoon character saying "Whatupdoe" was part of Detroit's City Walls program. Rather than deterring him, the incident seemed to springboard him onto even bigger projects like painting Bedrock's Monroe Street Midway roller rink near Campus Martius park.
His latest solo show Mantra at Ferndale's M Contemporary Art is a reflection on the art career he manifested for himself.
"I feel like the faces and the designs I develop are a mantra for me — it's therapy for me," he told us back in February about the show. "I'll be emphasizing the recurring images and symbols that I've been using, and getting back to the wood cutouts and some other things that I've been dipping into over the past five to seven years of my style really forming into itself."
In an artist statement for the show, McFly says, "Art is my MANTRA, my reason for existing, my forever love."
Mantra consists of 15 new paintings with his trademark style of repeating eyes, swirls, and noses. A few of the pieces on wood cutouts are positioned almost in conversation with another with titles like "I Got a Question" and "My Reality Used To Be a Dream."
It plunges the viewer into McFly's abstract world where the artist has fun with colors and patterns. Though one piece, "If You Knew What's Inside," feels more introspective, blending deep hues of purple and orange that allude to something brooding underneath the surface.
Every time we look up, McFly is onto the next project. He released his first weed strain called "CRUD" on 313 Day this year in partnership with DogHouse Farms. He designed the packaging for the eighths of CRUD to look like a cereal box and each one comes with limited-edition stickers of his artwork. Last year he followed the cryptocurrency and digital art trend, releasing a string of NFTs based on cartoons like The Simpsons and Dragon Ball Z. In the past few months, he's been in at least five group shows across metro Detroit.
McFly is the epitome of Detroiters' ingenuity, hard work, and will to recreate life in their own image, soaring toward a pinnacle of success many dream of but never reach.
He's proof that you can forge your own path when you stay true to yourself.
Where to see his work: Mantra is up at M Contemporary Art until May 15. 205 E. Nine Mile Rd., Ferndale; mcontemporaryart.com.
Coming soon: Metro Times Daily newsletter. We'll send you a handful of interesting Detroit stories every morning. Subscribe now to not miss a thing.

Follow us: Google News | NewsBreak | Reddit | Instagram | Facebook | Twitter