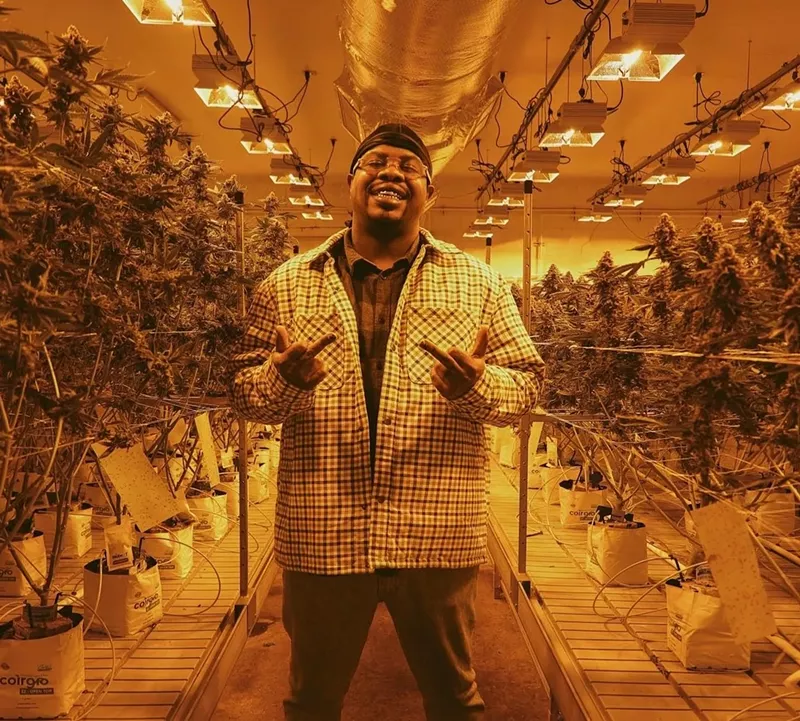 Detroit artist Sheefy McFly does whatever the fuck he wants.
Right now he wants to drop his own cannabis strain, so on 313 Day, aka Detroit Day, or whatever else you wanna call March 13, McFly will release his weed brand CRUD.
The artist is well known for his colorful abstract paintings of mashed-up and disembodied faces. He's also a rapper and DJ, but he's always considered himself a weed connoisseur.
"I've been smoking since [I was] a teenager," he tells Metro Times over the phone. "When I grew up, that's what we used to call weed in my hood, 'crud.'"
CRUD is a partnership with DogHouse Farms and was developed and grown at the company's Detroit location. McFly, whose real name is Tashif Turner, tells us the partnership came about after a friend who bought one of his paintings introduced him to some mutual friends at DogHouse.
"I had been trying to get into the weed industry for the past two years and when I seen the weed market was really becoming a multi-billion dollar industry in Michigan, I knew I had to get my hand in it," he said. "DogHouse is pretty cool too 'cause their grow is on the Eastside which is where I'm from, but they hail from the West Coast and they have award-winning genetics. I don't know shit about growing weed, but they got that in the bag. I'm just coming in with the creative end."
CRUD is the name of a lifestyle brand McFly is building with DogHouse and also the name of the first strain he's releasing with more to come. It'll be sold in eighths to start and McFly says he designed the packaging to look like a box of cereal.
"I'm a cartoon guy, like '90s nostalgia, that's really my shit," he says. "So I created the CRUD box to look like a cereal box with the eighth inside and you also get a sticker as well. There'll be four free collectible stickers that come with it. That's what I want to focus on, like every different package is an art experience. On the back of the box, there's a maze or connect the dots, you know, stuff like you used to find on the back of a cereal box."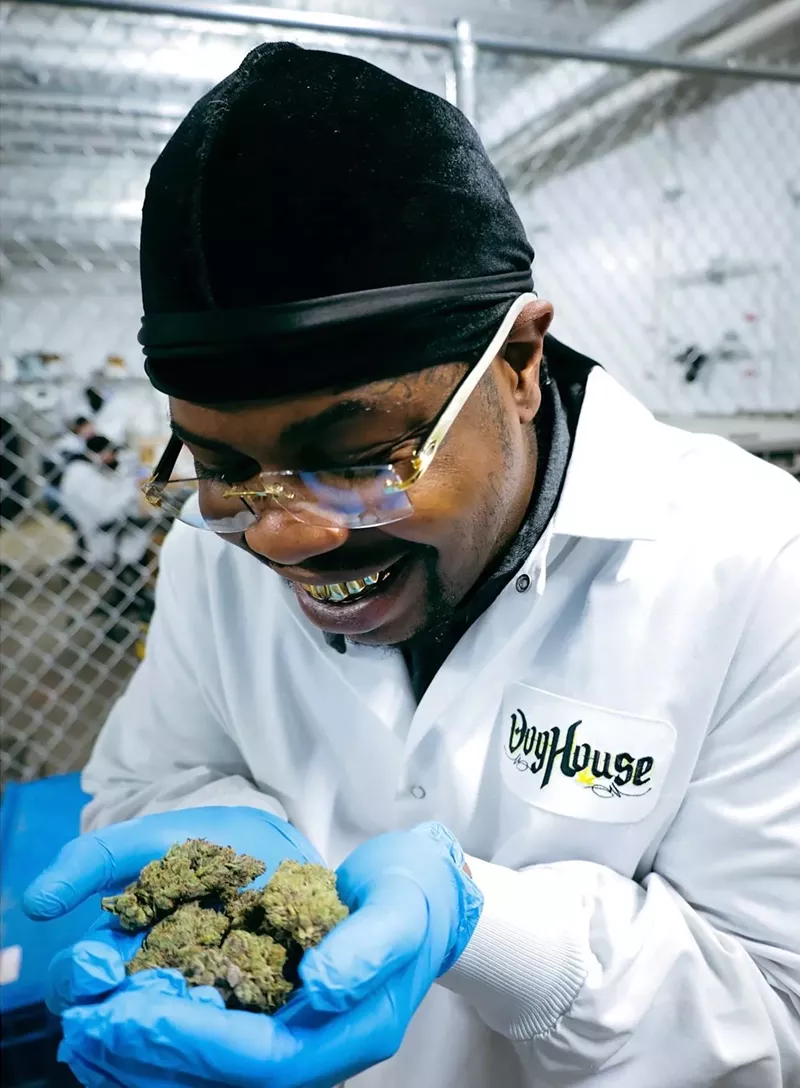 The 313 Day release party for CRUD will be at a private location, but McFly plans to partner with a few Detroit dispensaries to sell CRUD.
"It's gone be a Detroit exclusive at first," he says. "The farthest we'll probably go is Hamtramck but basically that's Detroit too, and then we'll go further out later but this one's just for the city, really."
CRUD is an Indica-dominant hybrid which McFly says has a "distinct taste that's not too earthy."
"I was trying to search for something like my first time smoking Runts," he says, adding that he spent weeks smoking different DogHouse phenotypes to find one he liked. "I feel like CRUD is a little bit heavier than Runts and it looks pretty too. It doesn't get you stupid high, you can still function, and you get a great taste."
Besides his weed venture, McFly is also gearing up for a solo show with all new paintings at Ferndale's M Contemporary Art called Mantra which opens on April 21.
"I feel like the faces and the designs I develop are a mantra for me — it's therapy for me," he says about the show. "I'll be emphasizing the recurring images and symbols that I've been using, and getting back to the wood cutouts and some other things that I've been dipping into over the past five to seven years of my style really forming into itself."
You can follow @sheefymcfly on Instagram for more updates on CRUD.
Coming soon: Metro Times Daily newsletter. We'll send you a handful of interesting Detroit stories every morning. Subscribe now to not miss a thing.

Follow us: Google News | NewsBreak | Reddit | Instagram | Facebook | Twitter