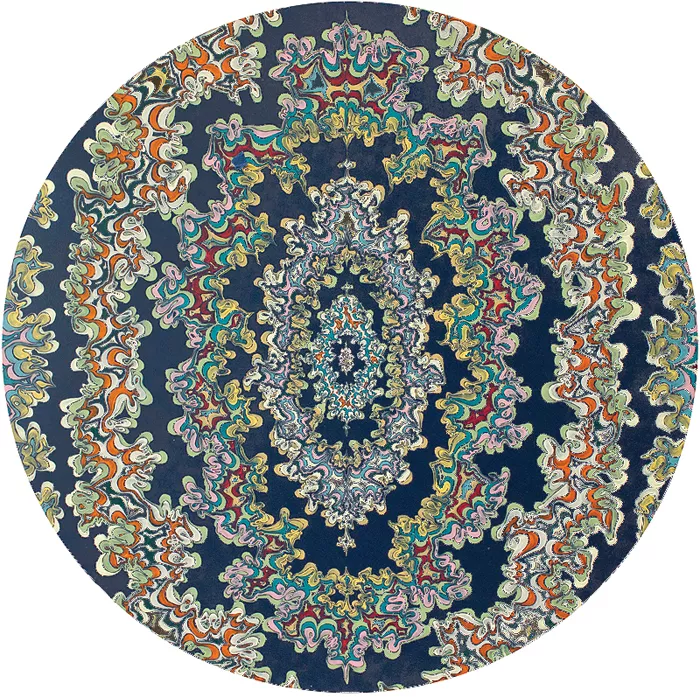 By his early 20s, Kelsey Brookes was already on track for a career in science. Originally hailing from the suburbs of Denver, Brookes studied microbiology in college and landed a fellowship at the Center for Disease Control, tasked with the glamorous job of testing dead birds for the West Nile virus. But by the time he was hired to work at a San Diego firm, he was starting to doubt his career path.
"I thought, do I want to go back to school and go deeper into debt?" the artist tells us by phone from San Diego. "I felt like the jobs that would be presented to me would be my bosses' jobs. Did I want that job? Is that really who I want to be? I was stuck with a question, and in lieu of answering that question — I just left."
Brookes wound up in Australia and the South Pacific, living out of a car at age 23. "That's when I learned to surf, and when I started reading literature — all the stuff that I wasn't doing in college as a science major," he says. Another thing Brookes started doing was drawing — constantly, though he had had no real previous experience with art.
"I always thought art had nothing to do with practice, that it was some sort of innate gift," he says. "When I was in Australia, I was just drawing because it was always something that I'd admired in people. A lot of my friends in college were, for whatever reason, art majors." Over the course of a year, Brookes' drawings got better, to his own surprise. "It seems kind of childish, but that was a revelation for me," he says.
When he returned to San Diego he started working in the lab again, but he started painting in the evenings, showing his art in coffee shops. "I realized you could pay rent just doing what you love to do," he says. A year later and Brookes decided to give art a serious shot and quit his full-time gig. "I'd be forced to make it work," he says. "I was 25 or 26 — I figured the time was now."
Lately, Brookes creates his psychedelic paintings using brightly colored acrylic paint. The paintings may look like the work of an artistic free spirit, but they actually hark back to his days as a scientist.
"I started painting molecules," he says. "If you think of a constellation, like Orion, it's made up of a group of probably 10 different stars. If Orion was a molecule, and you shrunk it down tiny, each one of the stars in the molecule would be an atom." Brookes was inspired by the molecular line drawings he used to use in the lab.
"I was doing these abstract paintings. I realized, I could represent, like, LSD, but I could do it in a really colorful pattern," Brookes says. "It would not only be a map of the exact molecular formula for LSD, but it would also use the colors that popular culture has fleshed out for the hallucinogenic experience."
For his latest show (and Detroit debut), Brookes sought inspiration in sleep: "What the neurotransmitters are that help regulate sleep, and make sleep happen — that all goes back to these molecules," he says.
Brookes says he knows most people just appreciate the paintings for their aesthetic value, but there's a whole other world within them if people care to look. "People historically have looked at science and art as two separate things, like the left brain and the right brain," Brookes says. "My feeling is that, in the end, there's so many more connections to celebrate and pay attention to."
Sleep: The Science and the Mystery opens at 6 p.m. on Friday, July 25 at Library Street Collective, 1260 Library St., Detroit; 313-600-7443; lscgallery.com.