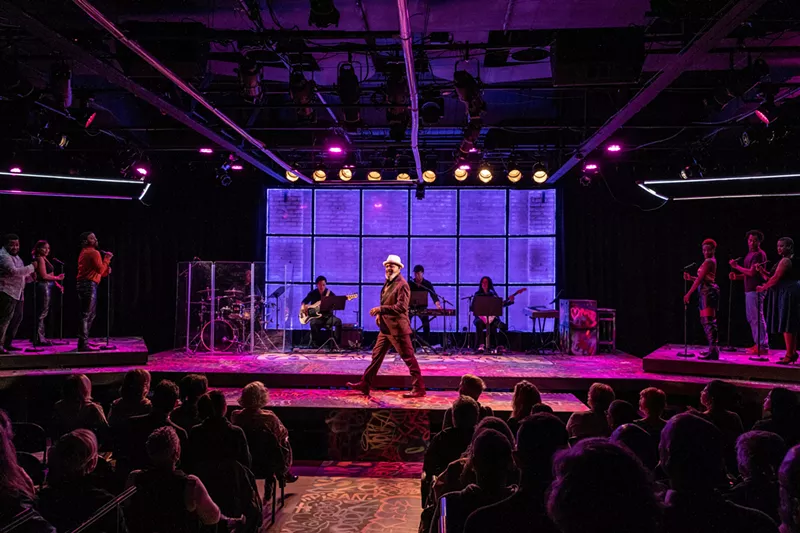 Who are we really, and what did we come here for? What does it feel like to know true love?
What if the "real" us is programmed into our subconscious, and what we think is real is actually fake?
The musical Passing Strange at the Detroit Public Theatre presents these crushing existential questions in a coming-of-age story wrapped in boppy ballads, hilarious storytelling, and a narrator whose a bigger star than the main character.
It starts with a brilliant criticism of the Black church — the kind that's only so funny because it's true. The pastor's son and youth choir leader is a gay stoner whose soul is yearning to be himself freely, the congregation is dressed for a fashion show, and the main character doesn't believe in God, he's just there because his mother forced him to be.
The young Christ-denier who is listed in the cast simply as "youth" has a spiritual awakening as the church music ignites his internal fire and he decides to become a musician on a quest for "the real." His hero's journey takes him from "the mean streets of LA" to an artist's flat in Amsterdam where he gets stoned, and has more sex than he can dream of.
It's everything he's ever wanted in overdrive. But he leaves for Berlin after realizing the fantasy he's created about what he thinks he wants isn't that interesting in reality. He's gotten so comfortable, he's grown stagnant, and discomfort is the true path to growth. All the while, a suave narrator played by Lee Palmer sings about the lessons our hero is about to learn.
In Berlin, he meets an even weirder group of artists who push him to delve deeper into his music.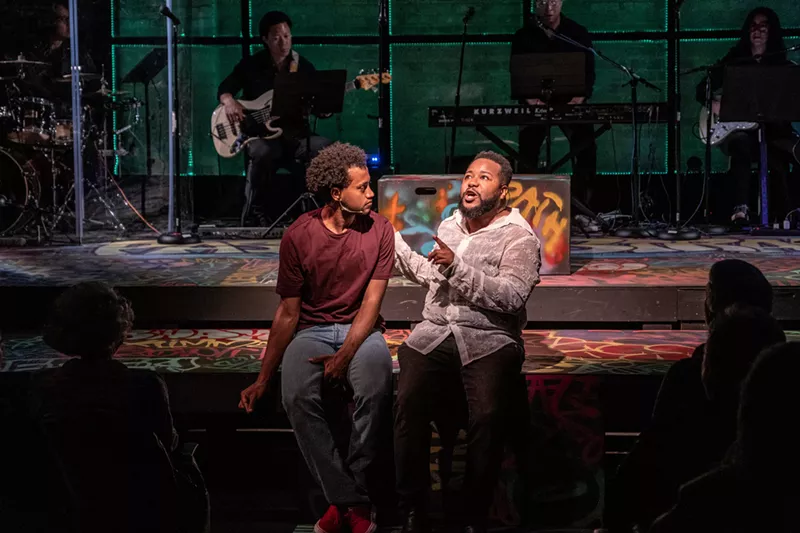 This includes a performance artist whose song repeatedly tells us that what's inside is just a lie captures the entire essence of the play. Just as a catchy song hook gets stuck in our heads unintentionally, so does the subliminal programming we are exposed to every day, teaching us who we're supposed to be. The same programming tells us that all Black people supposedly live in the ghetto and are thugs and criminals riding the eternal struggle bus of poverty.
If you're shown an image enough times, you'll begin to believe it, even if the false image is of yourself and you know it to be untrue. In Berlin, the bright-eyed youth played by Bereket Mengistu becomes "the Black one." He makes music about growing up in the hood where he has to fight crack addicts and police to survive, even though he came from a loving and safe home. He begins to pose as this "ghetto warrior" character because he thinks that's what's expected of him.
How many Black artists are pigeonholed as Black artists who have to make work about being Black? And who has the authority on what makes someone "Black enough?" Our main character's first love interest in the play tells him he needs to get "more soul" before she will date him. This would be funny if it weren't so sad, but the audience laughs anyway.
As the cast dances to circus music, dressed in top hats and armed with canes ala Fred Astaire, the mostly white audience erupts with laughter. How could they not? It is hilarious, but I wonder if they know how it feels to exist in the space between stereotypes and reality.
I have a theory that the narrator is the youth as an adult. He's finally realized "the real" is not real and has come to tell the audience that "It's just a construct."
Passing Strange runs until May 21 at Detroit Public Theatre; 3960 Third Ave., Detroit; detroitpublictheatre.org.
Coming soon: Metro Times Daily newsletter. We'll send you a handful of interesting Detroit stories every morning. Subscribe now to not miss a thing.

Follow us: Google News | NewsBreak | Reddit | Instagram | Facebook | Twitter