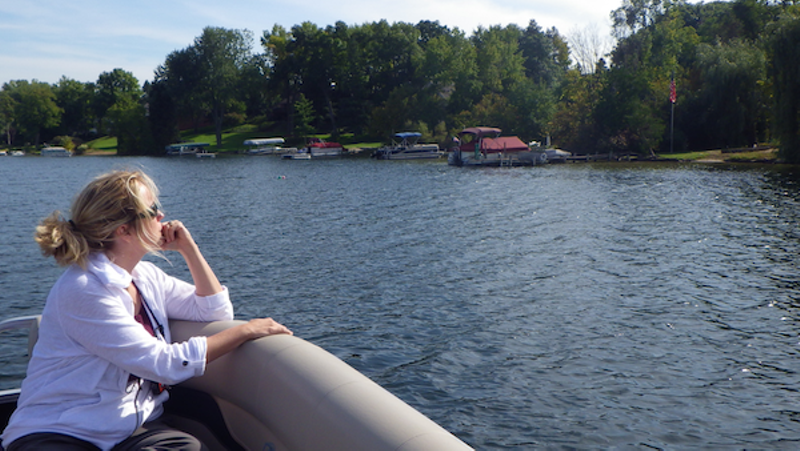 This year, the Oakland County Board of Commissioners is partnering with a Michigan environmental group to pursue something called the Oakland County Healthy Lakes Initiative.
The board and its health division will join forces with the Michigan Clean Water Corps to monitor the water quality at inland lakes and to help educate the county's residents about the special problems facing their riparian paradise. It's something the Clean Water Corps has a lot of experience with via its Cooperative Lakes Monitoring Program, which has been going since 1974. The activities are pretty simple: From mid-May through mid-September, volunteers take weekly samples and conduct a survey of aquatic invasive plants.
You might have guessed that none of this scrutiny would be brought to bear unless there weren't already problems, and you'd be right too. Paul Steen, an aquatic ecologist working with the Clean Water Corps, says that some Oakland County lakes have troubles already.
"We already know that Oakland County lakes are hard pressed by invasive species such as Eurasian water milfoil and by excessive nutrient inputs leading to dangerous algae bloom," Steen says.
It's a combination of factors that puts the all-sports lakes at the heart of several of the counties denser communities and villages. One is the fertilizer running off of the prosperous residences' ample and wide lawns, which can contain plenty of phosphorous. Once the phosphorous gets into the water, it can also encourage algae blooms, especially among the species brought into lakes by powerboaters and sailors out for a few jaunts.
"It's definitely known that invasive species travel through that kind of activity," Steen tells
MT
. "The state has been addressing it for years with their "Clean • Dry • Drain" program, posting signs around lakes. You want to hope most people follow guidance, but so many don't think it's a big deal. And they're not necessarily going from the Great Lakes to inland lakes, but within the county itself, going from lake to lake to lake, spreading invasive species locally."
One of those tiny stowaways is increasingly a foreign fauna named
Nitellopsis obtuse
, aka starry stonewort, a plant that is really causing problems. "It's actually an algae," Steen says, "but it creates thick mattes that make boating miserable and choke out other life."
The actual extent of these problems in Oakland County is unknown, Steen says. It may be widespread? That will be interesting to learn as we do this monitoring this summer. A year from now we will have a much better picture of things, after the monitoring is done and the reports come in from the volunteers and the data is tabulated."