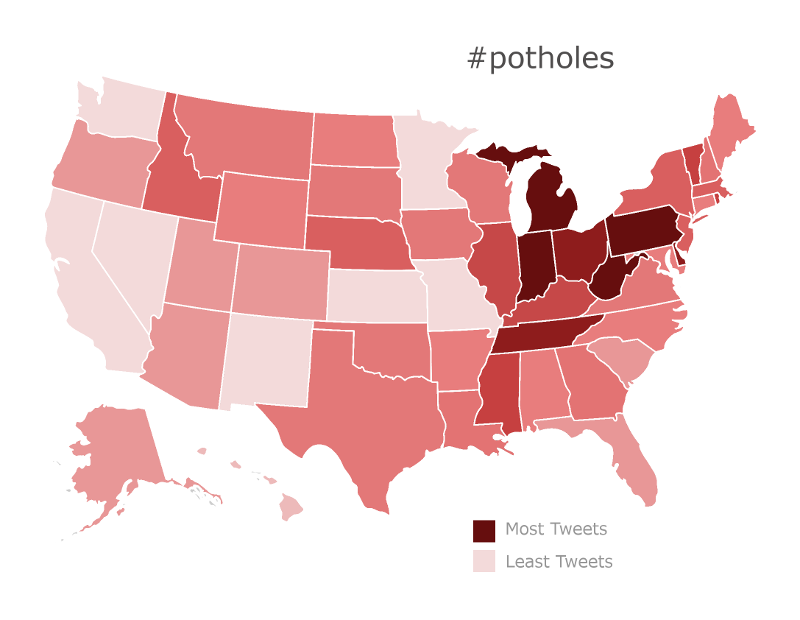 Since the great thaw of mid-February 2018,
potholes
have been an omnipresent talking point for Michiganders — perhaps because they're
worse than usual this year
.
and Detroit's in particular
— infrastructure is a problem, but potholes are a particularly big issue because they can cause both vehicular and bodily damage. Last week,
a man died in Detroit
after hitting a pothole, losing control of his car, and crashing into a pole.
Because potholes are such a hot topic these days, some hardworking folks over at
gearheads.org
decided to target geotagged tweets to come up with this handy little map, which seems to prove Michigan drivers have it worse than most states. The data is based on 100,000 tweets posted over a 30 day period.
According to a press release, Michigan — along with West Virginia, Pennsylvania, and Indiana — is among the top states taking to Twitter to complain about potholes. Tennessee and Ohio appear to be close behind. West Coast states like Washington, California, and Nevada are apparently not experiencing our Midwestern pothole hellscape, according to the map.