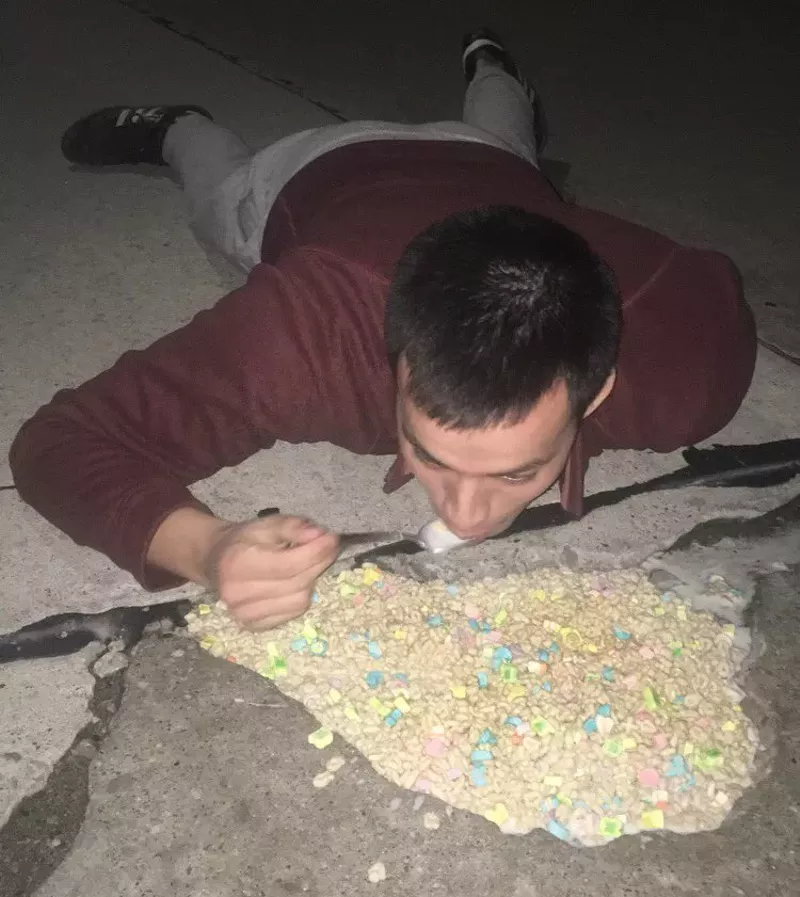 The mind of a young man is a mysterious place. Nobody can really be sure how it works, or what strange forces shape it. Nevertheless, when we stumbled upon a photo on Twitter depicting a young man appearing to eat Lucky Charms out of Michigan pothole, we knew we had to at least try to find out more.
"I don't really know," says Andrew, a 22-year-old Eastern Michigan University student who declined to offer his last name, when asked what inspired him to eat cereal out of a pothole.
"I remember texting my roommate, and I was like, 'I just got a great idea.' And he was like, 'Oh no, what is it?'" he says. "And then I told him and then we both had a laugh about it, and then we went and did it that night."
To be sure, Michigan's roads have been infamously horrible this season. The American Society of Engineers gave our roads
a D- grade
on its latest annual infrastructure report card, and on Tuesday Gov. Rick Snyder
signed a $175 million spending bill
to fund repairs using money that was originally intended for next year.
Andrew says his goal was to find a pothole that would be big enough to pour an entire box of Lucky Charms and a gallon of milk into.
"It didn't take us too long to find that one," he says of the pothole, which he found in Trenton.
And yes, Andrew confirms he did eat out of it. "I took a couple bites of it, twice, because we took one video but we accidentally deleted it so I had to go eat a little bit more," he says. "And you know what? Everyone thought it was going to taste bad, that there'd be dirt in it, but it tasted perfectly normal."
Of his strategy, Andrew says, "I tried to skim off the top."
He originally posted the video to his Snapchat, where he says it earned a respectable number of likes and comments. But once his roommate put the photo on Twitter it took off, earning more than 2,700 likes and nearly 800 retweets as of Wednesday evening.
Andrew says he got some negative comments, and isn't really sure why. "I saw a really terrible pothole, so I thought I'd make a joke about it," he says. "I drove by it the next day and it still looked like a whole bowl full of milk and cereal. It's funny."
He also offers some possible insight into his motivations behind the stunt.
"Some girl I never met before recognized me on campus from that," he says.
March 12, 2018
March 12, 2018
March 12, 2018
If any of y'all were wondering what Michigan's like pic.twitter.com/F4LDcDufnZ

— 37 others (@WigPisser) March 11, 2018
Stay on top of Detroit news and views. Sign up for our weekly issue newsletter delivered each Wednesday.