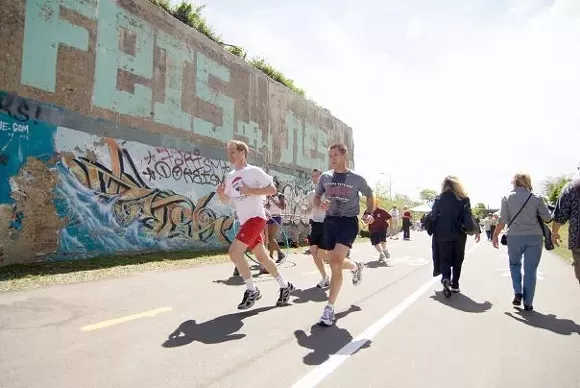 If you're somehow unfamiliar with the Dequindre Cut, it's a greenway and bike path on the east side of the city that's maintained by the Detroit RiverFront Conservancy. The Cut features beautiful graffiti murals and is outfitted with street lamps, benches, emergency phones, and trash bins — basically an ideal place to get some al fresco exercise in the city while remaining safe.
Well, it costs money to keep the Cut up, so the Conservancy holds the Soiree on the Greenway every year to refill their coffers with dough that goes toward keeping the Cut beautiful. The party, which includes food and drinks, will feature a live mural painting and complimentary bike valet by Wheelhouse Detroit.
Thursday, event begins at 6 p.m.; Dequindre Cut, Detroit; detroitriverfront.org; tickets are $50 at the door.