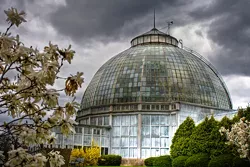 We've just been alerted to
a new app for Belle Isle
that doesn't just help drivers and cyclists navigate the island park, it also acts as a digital docent for those touring the island park for the first time. It has the lowdown on almost 50 different aspects of the island, from historic attractions like the Detroit Yacht Club to timeless pastimes like river fishing. You can use it to follow the designated route or pick and choose favorite stops using built-in navigation features.
With dozens of audio presentations by Detroit radio veteran Dick Shafran,
it's billed as a nine-mile "audio tour," and it manages to squeeze in enough information to even teach veteran Detroiters a thing or two. Like did you know Harry Houdini was shackled, boxed, and tossed off the original Belle Isle Bridge in November of 1906? OK, how about that Al Pacino and Gene Hackman took a dip in the James Scott Memorial Fountain in the 1973 movie Scarecrow? You knew that too? How about the exact location of "Hipster Beach"? OK, you might know more than this app. But you still may be curious enough to download it, as it's a fun and functional way to experience the island retreat.
Curious? Ready to get started? You'll find more details and a download link at
detroitsbelleisle.com.