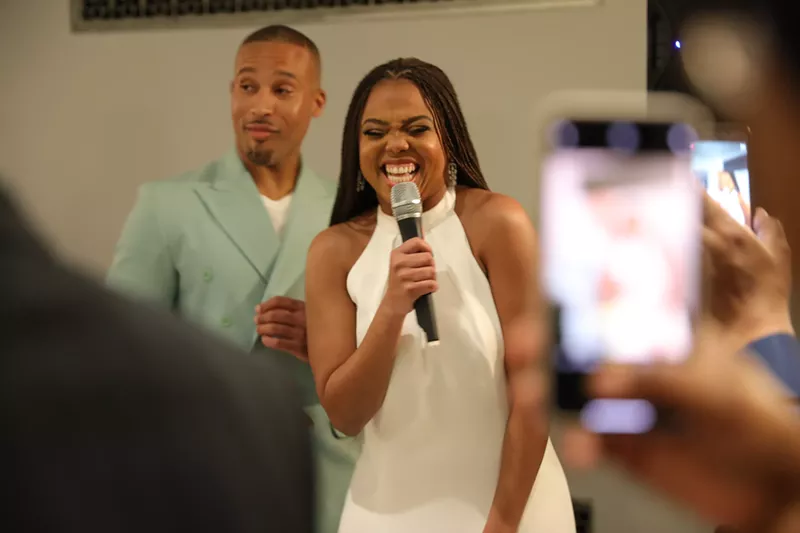 On Friday night, recently engaged sports journalist Jemele Hill and her fiancé Ian Wallace gathered close family and friends at Detroit's Fisher Mansion — a historic, 16,000-plus-square-foot English Tudor Revival-style home. Guests filled the first floor and the basement of the Boston-Edison estate that was built in 1922.
"It means a lot," Hill's mother, Denise Dennard, tells
Metro Times
. "The community is celebrating with us, friends, and family. It's just good warm fuzzies all over."
In the basement, there was an open bar and a black iPhone connected to speakers playing a Motown- and party anthem-heavy playlist that was fitting for the night's "Endless Love" theme, including a nod to the 1981 chart-topping duet by Diana Ross and Lionel Richie. Upstairs, there was a pasta bar with a chef preparing handmade noodles and fusion finger foods like Cuban sandwiches, curry chicken wontons, and jerk chicken skewers.
"She could fit in my hand when she was firstborn," says Hill's father Jerel Brickerson. "Now I can't pick her up, but I'm really proud of her and I'm glad that she did it her way."
The night was organized by the soon-to-be bride and groom's best friends, with Hill's right-hand-woman and business partner Kelley Carter and Wallace's college friend Rich Bass among them. The couple, styled by Kenni Wallace, were decked out in subtle iterations of their Michigan State University alma mater's school colors of green and white. Kenni Wallace is an L.A.-based wardrobe stylist for other power couples like
First Take
ESPN host Molly Qerim and ESPN analyst and former NBA basketball player Jalen Rose.
Wallace wore a not-quite mint, almost SweeTarts-green custom suit and clean, white low-top sneakers, and Hill wore a white halter-neck, ankle-length dress and nude heels with a transparent detail across the top. Although there is not a specific theme to the wedding, the couple has settled on a #FromMSUToIDo hashtag.
"We're all still friends, we all still hang out, we take trips with each other, we work out with each other — every time we see each other it's laughs the whole weekend," says Glenn Lott, Wallace's close friend and former college roommate. "Now, because we got married and some of our other friends are already married, we share that in common, to add on to the legacy of the friendship." Last summer, Hill and Wallace joined Lott and his wife Candace for their joint bachelor and bachelorette trip to Playa Del Carmen, Mexico.
Hill and Wallace attended Michigan State University at different times, but met through a mutual friend at the MSU Black Alumni tailgate in 2014. Wallace, who works in sales, was living in Myrtle Beach, Virginia, at the time and Hill was working at ESPN in Hartford, Connecticut. The two connected and courted over the past few years, and are now living in Los Angeles together where they plan to have an intimate wedding in the fall.
Before the big day, Hill and Wallace returned home to Detroit for a weekend of celebratory activities. First, an engagement photoshoot at the Detroit Institute of Arts reenacting some of Beyonce and Jay-Z's iconic couple looks, then the engagement party, and finally Hill's bridal shower at Galleri 2987 in the Rivertown-Warehouse District where Wallace made a guest appearance.
It's been a wild ride for Hill ever since she called President Donald Trump a white supremacist on Twitter in 2017. In the aftermath she was briefly sidelined by ESPN following pressure from the White House, and later moved to a columnist on the company's sports and culture website, The Undefeated.
Since then, she parted ways with ESPN and started her own media company with Carter,
Lodge Freeway Media
. Last year, she was awarded Journalist of the Year at the National Association of Black Journalists' 43rd Annual Convention in Detroit. The auditorium at her alma mater, Mumford High School, was also renamed in her honor. Earlier this year, she launched her own podcast,
Jemele Hill Is Unbothered
.
The last time we spoke with Hill,
we got a glimpse of what a night off would look like for Hill as she painted a picture of a chill girls night in with women she admires. This trip to the city was all pleasure and play, celebrating the journey that is to come.
"Certainly for me, this has been a crazy last couple of years," says Hill. "I never would've guessed that I would have ended 2018, which was already crazy enough, with being engaged."
Stay on top of Detroit news and views. Sign up for our weekly issue newsletter delivered each Wednesday.