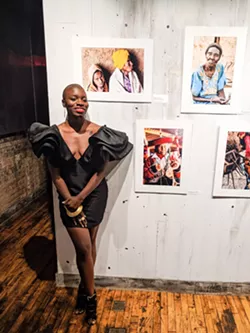 Coming back home to the place she was born and raised after experiencing life around the globe is a welcome respite for world traveler Jessica Nabongo.
Nabongo celebrated her 35th birthday at home in Detroit before embarking on the final leg of her world odyssey to be the possibly the first Black woman to visit every country identified in the United Nations — 195 countries total. Only a few people can say they've visited all of the countries around the globe, and the Detroit native is working to be one of them, expecting to finish her list this summer.
"I've experienced 170 countries … and my body is exhausted and feeling every single mile," says Nabongo. "Turning 35 at home and being this close to the end of my journey just feels right. I wanted to make it a celebration because I love Detroit."
(Nabongo's claim of being the first Black woman to travel to every country in the world is disputed by some. A Los Angeles woman named Woni Spotts has also claimed to have visited every country in the world, but she is not listed as verified by
nomadmania.com
. The site's verification model is imperfect; it asks applicants to provide proof they have visited randomly selected countries, not every single one.)
As a professional photographer, writer, and influential travel blogger with more than 100,000 followers, Nabongo has lived a life that many can only dream of, holding two passports, and residing in five different countries. She was most recently named one of the
"30 Most Powerful Women in Travel
" by Conde Nast.
Nabongo's most passionate about sharing her experiences in places that have typically low rates of tourism, like Africa, Central and South America, and the Caribbean. What most of her followers and supporters know her for is
The Catch Me If You Can
globe-trotting blog, where Nabongo engages her readers through her writing and photography.
Nabongo's excursions undercut the concept of being able to "live like a local," or the idea of seamlessly blending in anywhere simply by changing clothes or speaking the language. Often, as the only Black woman in a crowd, Nabongo says she stands out for her dark skin and shaved head.
She says she loves to observe the way how others live. "I love most seeing local people enjoy their own local beaches," says Nabongo. "I just left a small West African island and seeing the local people enjoy their own coastline was magical."
Raised by Ugandan immigrants on Detroit's west side, Nabongo graduated with a bachelors degree from St. John's University in Queens, New York. She achieved "the American dream" that her parents worked so hard to attain, landing a six-figure job at a pharmaceutical company and becoming a condo owner. However, she found the work didn't satisfy her thirst for travel.
"I tried it and decided it was not for me," she writes on her blog. "I ate out most days, spent too many happy hours at the Woodward in Detroit, a restaurant that is long gone. I blew money fast, had a ton of debt, and still was unfulfilled."
Nabongo began renting out her home to pay bills, then chose her first overseas adventure — first, teaching English in Japan, then attending grad school at the London School of Economics, followed by a job at the UN that took her to Italy. But she felt that she needed to do more. She says she's happy she's able to call Detroit home.
"For a long time, I didn't necessarily feel like I had a home," she says. "And I felt so unsettled. I was traveling the world but didn't have a place to call home. Detroit creates a center for me. Detroit is home. I come home to Detroit for my zen. I made a space that, although I don't spend a lot of time, is where I find peace."
When asked what she takes with her every place that she goes in her quest to visit the last 25 countries in the world, Nabongo insists on her phone, of course, her cocoa butter, her laptop, and noise-canceling headphones.
Nabongo's advice to Detroiters who want to follow in her footsteps: Start by traveling locally. "Get in the car and drive 100 miles in any direction and explore something new," she says. "You will appreciate home so much more when you're able to experience something new."
Stay on top of Detroit news and views. Sign up for our weekly issue newsletter delivered each Wednesday.