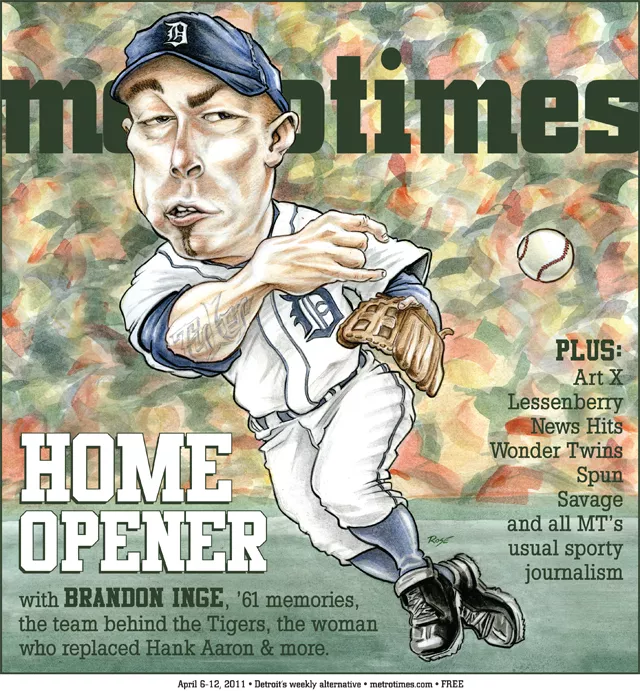 It's probably unholy this week to ask Brandon Inge what he'd be doing if he weren't a baseball player.
"I'm not sure," he haltingly answers. "Probably something in extreme sports."
Not that the Detroit Tigers third baseman doesn't use the quickness, balance and strength he'd need as, say, a ski racer, mountain biker or, dare we imagine, skateboarder in his current infield play.
Inge, 33, is considered one of the most classically athletic and versatile on the Tigers roster. He's mostly a fan favorite for his reliable fielding but sometimes the source of angst for his less-than-stellar batting.
As the player with the longest tenure on the Detroit roster this year, Inge is the guy with the most Detroit Opening Days, which is more what the first week of April is about than career stats.
A native of Virginia, Inge is still struck by the energy, enthusiasm and loyalty the Detroit fans bring each season, never more so than on Opening Day. When Inge and his teammates take to the green grass and smooth infield of Comerica Park on Friday for the home opener against Kansas City, the stands will be full. Fans will peer through the fence in the outfield. Nearby bars will be packed by those who just want to be close to the game action. Offices will lose productivity as those stuck at work will follow on the Internet.
Contrast that to the first game of the 2011 season the Tigers played at Yankee Stadium March 31. It takes a lot to shock a veteran major league player, but Inge noticed something amiss in New York.
"I could not believe it. I was looking around and was saying to the third base coach, 'Can you believe the empty seats?'" he says.
Inge had 4 hits in 11 at bats in the three-game series against the Yankees. The Tigers came out of that series 1-2 with a big win Sunday, then headed to Baltimore Monday, where they lost to the Orioles. Inge scored the lone run, hitting a double and reaching home plate after back-to-back singles.
Fans follow Inge also because of what he quietly does off the field. He's one of the only Tiger players who makes Michigan his year-round home. He and his wife are Children's Hospital of Michigan advocates, and have founded a charity that raises money for families whose children have lengthy hospital stays.
Inge, at the ballpark, is without ritual or superstition, except for changing his jersey from No. 12 to No. 15 after a bad start with the team his first year when he batted .180. "I said, 'Screw it,' and 15 was the only number available," he says. The number doesn't have any other significance to him.
Inge recognizes what the Tigers, and especially their home opener, mean to the thousands of loyal Detroit fans. He spoke with Metro Times about it by telephone from New York before Sunday morning's batting practice.
Metro Times: What is the mind-set of starting the season on the road and having a couple opening days in different cities?
Brandon Inge: It's good; you actually get to enjoy three of them. We got one here in New York, one in Baltimore, and then, having had two opening days at the road stadiums, we'll get to come home and have the one that we really want — and that's the one at home for us.
MT: So Detroit's Opening Day keeps its luster over the years for you?
Inge: It is something starting the season at home. No matter how long I've been here and no matter what kind of team we'll have, I've never seen a better one than Opening Day in Detroit.
MT: What is it, the crowd? The ballpark? The Michigan April weather?
Inge: All of the above. Let's put it this way, it's not a knock against Yankee Stadium — I've got a lot of respect for a team that has tradition — but their opening day was kind of boring. I'm just comparing it to Detroit. I'm not knocking anyone, but the Detroit fans, when they come out, it's almost like they're excited because it's a glimpse of the summer weather coming. It's also that Detroit is a long-standing team. It's over 100 years old, just the tradition there of families, from a grandfather to a father to a son. It's just the people that come out in droves and it's the unbelievable energy when they come out. It's not like they're just sitting there and bringing the corporate crowd out and they're going to watch a game. It's a group of friends and families and everyone in Detroit.
MT: As far as what's happening on the field, how is that different now compared to your previous seasons here?
Inge: There has been a lot of transition. We had a terrible team a couple years, and people stood behind us. I think the players actually recognize that the fans came out and still supported us. But I think the fans had a good response the following year.
MT: But that's like the city and state too, right?
Inge: The city is going through some turmoil. Mr. Ilitch has done a good job cleaning up the downtown area with the Red Wings and the Tigers and the Fox Theatre. I think the fans have an appreciation for that. The economy, as bad as it's been for the last couple of years in Detroit, we've tried to stay on our owner to try and keep ticket prices pretty reasonable for a family of four to come and see a ball game. I think that between the fans, the players, the owner, I think it has a lot to do with why this team is so popular and why Detroit Tigers baseball continues to be popular here.
MT: The players the fans are coming to see are making millions. Is that ever a conflict as you, the players, think about the fans and the challenged city where you're playing?
Inge: I try and think of it from a fan's perspective. If I was a fan and I was going to spend my hard-earned dollars to watch baseball, I would want the owner of the Detroit Tigers to put a great team on the field so I could watch something good. And he's put a good quality team together here.
MT: So you're not worried about how the team started?
Inge: Nope. I'm not worried about that. I don't hold much to the beginning of the season. It's not how you start, it's how you finish.
MT: What did you do this last off-season to be ready for 2011? Was there any special conditioning for your knees after the surgeries in 2009-2010?
Inge: I feel great. I stayed in Saline. I played a lot of hockey and kept my legs in shape. I'm enjoying that.
MT: Hockey?
Inge: Yeah, I've never played hockey before. Never. My kids got into it a little bit so I had to learn it. It's great for your legs, great for conditioning. It's something I enjoy doing, and I got to spend time with my boys.
MT: Speaking of other sports, your alma mater, Virginia Commonwealth University, made it to the Final Four but got knocked out Saturday while you were on the field in New York. Did you get to catch any of that game?
Inge: No, it was done by the time we got back to the hotel. I'm proud of them though.
MT: What are your expectations for the Tigers this year?
Inge: We kind of have a good mind-set, kind of like we did in '06; we're trying to take one game at a time and play as hard as we can for that particular game. All those other silly goals will take care of themselves. Some people try and put numbers on things; it doesn't work that way. You play for your city and you play for your team. That's what will win ball games. You don't ever give up. We're not setting goals and putting numbers on things.
MT: You as a player are considered the most versatile, but has that been a blessing and a curse for you?
Inge: You have to adapt in this game to any situation that comes up. I was fortunate in that my parents let me play a lot of different sports when I was growing up. I think that helped. But, yeah, when we sign a Pudge Rodriguez [who replaced Inge at catcher in 2004] or a Miguel Cabrera [who originally replaced Inge at third base before moving to first], I have to go where I can go to survive. I've always been a team player and wherever I can help out the ball club, that's what's OK by me.
MT: And really? No special superstitions or rituals, even for Opening Day?
Inge: Nope. I just make sure I enjoy every second of the home opener. It's fun to get out there in front of our city and our fans.