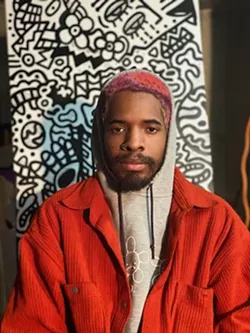 This feature highlights a different local artist each week. Got someone in mind you think deserves the spotlight? Hit us up at [email protected].
Artist of the week: "Darklord" Escada Gordon
While Metro Times was getting ready to publish last week's cover story about Detroit's history of evicting Black residents, local illustrator "Darklord" Escada Gordon was experiencing something similar.
The owners of a rent-to-buy home his mother had been renting decided they no longer wanted to sell the house, despite the artist and his mom coming out of pocket for extensive repairs.
"It was a whole struggle. My mom ended up passing away and I ended up taking over the house and paying the bills, the rent, and all that stuff," he tells Metro Times over the phone. "A lot of the things in the house the property management company wouldn't fix themselves. My mom and me, we paid electricians, plumbers, we did renovations on the home, and it was just a whole situation… Then they were like, 'We don't even want any more money from you, we just want the property.'"
So he did what any scrappy artist with an Instagram following would do. He made a satirical comic, in this case depicting himself reading an issue of Metro Times with a front-page headline that says "They Tryna Move My People Out."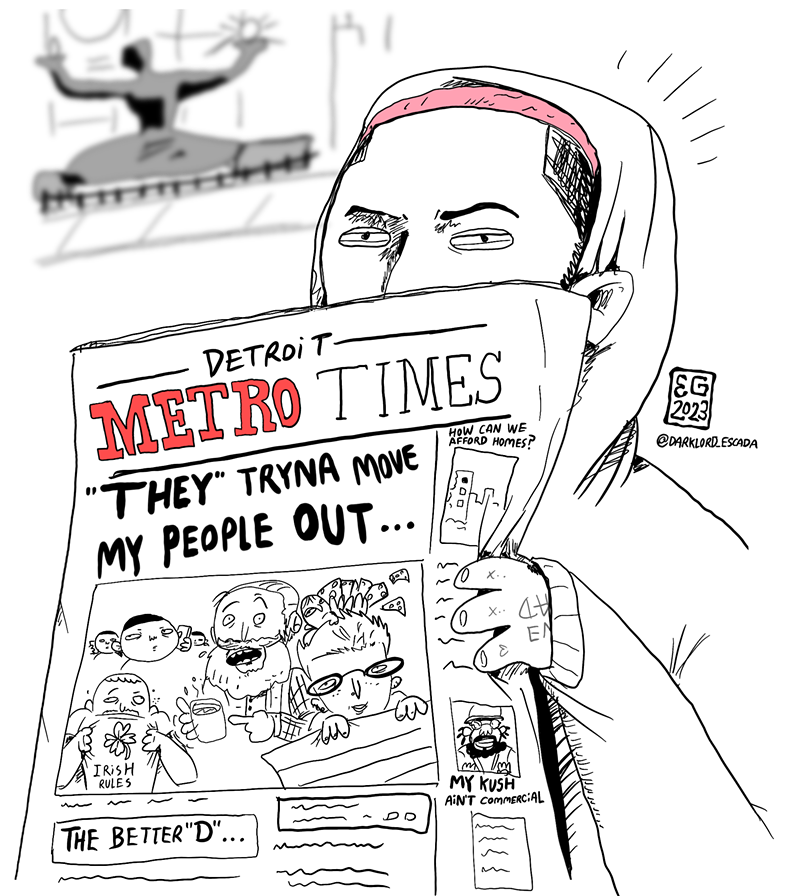 When people first started tagging our @metrotimes account in response to Gordon's comic about gentrification on social media, we weren't sure if he was throwing shade or commending us for our cover story. But the artist clarifies he just wanted to bring attention to an issue that he and many of his friends have experienced.
"I literally didn't even know you guys made an article talking about the evictions of Black people from their homes, it was just a conversation I was having with my associates and I'm like, it's kind of crazy that this is going on right now," he says. "I mean, when I made that comic of my situation, it was like, dang, they didn't want money, they just wanted to put us out of the house, and that's nuts. They don't care if you don't have any place to go or anything, they're just trying to get us out of here."
Given the timing, we're not sure if we completely buy that Gordon didn't know about our article, but it is unfortunately a relatable situation for far too many Detroiters.
Gordon has been making comics and animation professionally since around 2014, though he says he's been an artist and musician since he was 5. His cartoons are usually no-holds-barred satire on current events or life in Detroit. Their over-the-top nature and unbridled honesty are what makes them so funny.
One of his comics shows an annoyed office worker returning to work after a weekend at Movement Music Festival with a coffee cup that says "just another nigga in the system." His alien cyborg-looking boss says, "Did you enjoy yourself at Movement Michael…? I hope so… I really do, Michael… but now it's time for you to get back out there with a working smile."
Another one about gun control depicts toddlers in a gun shop with the owner obnoxiously telling them "you kids gonna need some protection out there, I hear they're shootin' up the schools!" One of our favorites by Gordon pokes fun at Detroit's potholes as two kids stare down a gaping hole so big they can see China on the other side.
"FUCK DETROIT ROADS… still," the artist writes in an Instagram caption. "imma keep making a push with my Detroit based comics to get these dangerous Detroit potholes fixed cause it's getting to the point we got mini Grand Canyons just sitting on the block chilling, Mike Duggan or somebody better make a move and stop fixing our roads with coffee beans."
Gordon says he sees himself as a journalist of sorts.
"I look for stories and things that are going on currently," he says, adding about the pothole comic, "I have a real big beef with the potholes in Detroit so I was like man, I want to make something that's relatable."
His Movement comic was featured on Adult Swim's Black History Month tribute showcasing the work of Black cartoonists last year. Gordon has also done mural work for JARS Cannabis and the Detroit Pistons, as well as logos for several brands and musicians.
He says some brands find his work "controversial" and have reservations about working with him, however. One such "controversial" comic is called "Detroit Niggas in Paris" following the Detroit Pistons' visit to France earlier this year.
"For me, I'm like, it's the truth and it's funny," the lifelong Detroiter says, unbothered.
He says his next project is a full-length comic book featuring DJ Pooh, the screenwriter and producer who co-wrote the movie Friday with Ice Cube.
"It'll be DJ Pooh quantum-leaping through all these random Ice Cube movie plots like Friday, Are We There Yet, and All About the Benjamins," Gordon explains.
That comic will take at least another year to complete, but Gordon's work will be featured in an "unconventional fine art" show at Pontiac's Gallery 46 in February. The artist has previously exhibited abstract illustrations at Detroit's Irwin House Gallery.
Where to see his work: You can keep up with "Darklord" Escada Gordon on Instagram at @darklord_escada. His work will be in an upcoming group show at Gallery 46 from Feb. 12-28 at Gallery 46; 46 N. Saginaw St., Pontiac; gallery46.org.
Coming soon: Metro Times Daily newsletter. We'll send you a handful of interesting Detroit stories every morning. Subscribe now to not miss a thing.

Follow us: Google News | NewsBreak | Reddit | Instagram | Facebook | Twitter