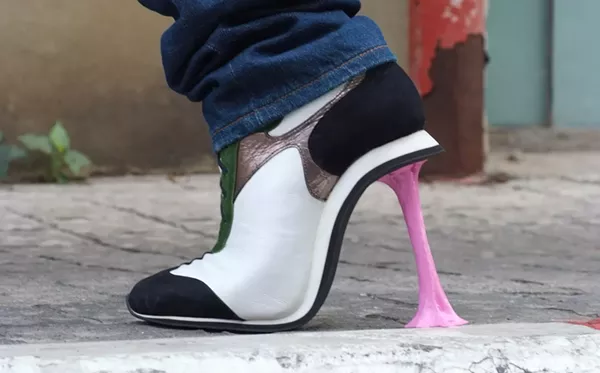 Well, the College for Creative Studies has some theories. And they put them all together in a new exhibit they're calling Shoetopia!
The exhibit is the first of its kind in the country, and Detroit's an interesting place for Shoetopia! to take place. The city has many independent designers, and a bevy of extremely talented local artists, but we can't quite seem to get a fashion industry to take off here.
Regardless, fashion still plays a huge role in shaping the city. Aki Choklat, CCS's fashion accessories design chair, knows that quite well. She curated this exhibit by bringing together local, national, and international artists who crafted shoes out of such unique materials as IKEA shopping bags and, uh, human teeth.
Each artist worked within one of seven themes: feast, ritual, metropolis, techno, utopia, eco, and nocturnal.
In addition, the exhibit will include other artwork made from shoes and shoelaces, including a painting and a chair. There will also be video, sculptures, and other artwork.
The whole thing kicks off Friday at 6 p.m. in CCS's Valade Gallery inside the A. Alfred Taubman Center for Design Education at 460 W. Baltimore. The show will remain open until Dec. 16.