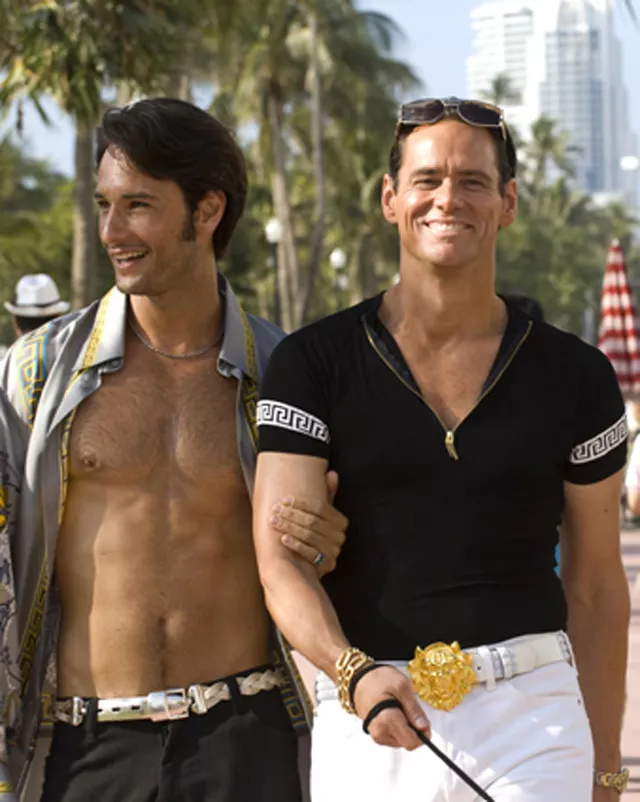 I Love You Phillip Morris
GRADE: B+
Progress can be slow even in Hollywood, and the road from invisible to prestigious for gay screen characters stretched for roughly 30 years, though, in some ways, our actors have yet to reach the final destination. Many big names remain in the closet, others are relegated to supporting players. Meanwhile, straight male leads can don "pink face" and predictably queue up for accolades and awards-show red carpets. And so Jim Carrey joins the long procession of gay-for-pay icons, alongside the likes of William Hurt, Tom Hanks, Heath Ledger, Jake Gyllenhaal, etc. While the politics of such casting remain murky, what is crystal clear is that in I Love You Phillip Morris, Jim Carrey gives one of the nerviest, boldest performances of his sporadically brilliant career.
A brave and mad true-love story spanning a decade, multiple states and tones, the film is nearly as energetic and quirky as its star, who is at his twitchy, wild-eyed, manic peak. That is not to say that Carrey is pulling an Ace Ventura Gay Detective fast one on the audience; there is a good deal of nuance here, but he is playing a guy whose entire life is one big, flamboyant lie.
Carrey's Steven Russell starts out as a humble Texas family man, married to an aggressively bland church gal, played winningly by Leslie Mann. He proceeds along with the Christmas sweaters, potluck dinners and PTA meetings of a regular Joe, until the late-coming revelation that he was adopted. After a confrontation with his birth mother, and a car crash, Steven suddenly embraces his long-buried homosexuality, a fact we have guessed since seeing that, as a child, he would lay in the grass and see large, fluffy dongs in the sky. Newly committed to living out and proud by any means necessary, Steven begins finding less than legal means of keeping up his extravagant lifestyle. A series of frauds, cons and petty larcenies lands him in the penitentiary, where he goes instantly gaga for a winsome new inmate. A wispy blond with a courtly Southern disposition, Phillip Morris (no relation to the famed tobacconist) is a sweetly charming soul — when Ewan McGregor manages to maintain his Georgia twang. Their love endures through gang fights, strip searches and lockdown, as Steven keeps on plotting ways to keep them together at all costs, inside the joint or out, with schemes that grow more outlandish by the minute.
As the skulduggery gets more absurd, the picture goes slightly off the rails, though it becomes clear that it was never really headed in a straight line to begin with.
First-time directing team Glenn Ficarra and John Requa (Bad Santa), working from their own script, try to tether the film to its true-crime origins, but their darkly satirical streak tends to win out over realism. The result is a film all too eager to entertain, but quite ready to shove your nose in all the felony, deception, violence, AIDS and matter-of-fact prison sex you can handle. The leads don't quite spark romantically, but they achieve tenderness while slow dancing during a prison riot, which is sort of audacious. Tonal queasiness aside, this is a challenging, engaging film, with both sharp-edged cynicism and heart. A mean feat, but as Phillip bluntly states: "Enough romance, let's fuck."
Showing at the Main Art Theatre, 118 N. Main St., Royal Oak; 248-263-2111.