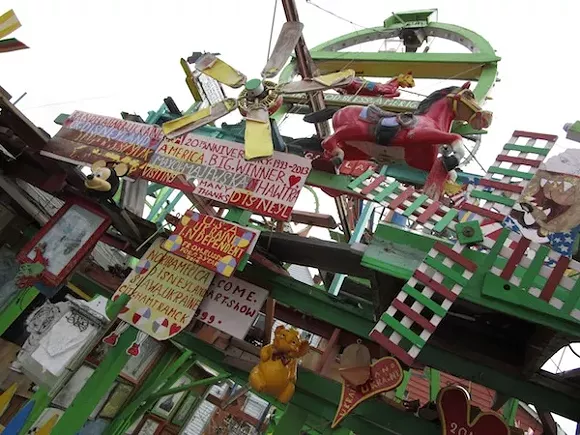 Some people accomplish their greatest work in the sunset of their lives. That was certainly true of Dmytro Szylak. When he retired from General Motors in 1992, he began installing whirligigs and fanciful sculptures in his backyard. Over the years, they grew and became a massive, colorful attraction he called "Hamtramck Disneyland." It drew people from far and wide, and they'd hang out in the alley behind Szylak's house, write their names in a guest book, and sometimes were greeted by the old man who'd take them on a tour.
Szylak died on May 1, 2015
at the age of 92, and
the future of the artwork has been in a sort of limbo
. For that matter, so has the property: Sources close to the matter say the property was tied up in a court case as late as last summer. The party that prevailed in that case was a woman Szylak had reportedly willed it to. Sources say that she has been in ill health, and her son, Yuriy Byega, is trying to figure out how to best handle the future disposition of the property. (We did try to reach Byega, but haven't heard back from him.)
Even before the alleged probate case was resolved,
a group of civic-minded Hamtramck residents had been working with Byega to try to work out a plan whereby the mammoth artwork can be preserved
. The group, which includes Hamtramck Mayor Karen Majewski, writer Walter Wasacz, Chris Schneider, and others, simply doesn't have the money to buy the houses outright. And so they've labored to come up with a plan that appeals to its current owner and involves realistic financial burdens.
The problem is that those talks, reported in such upbeat terms less than a year ago, have since stalled. And it's a less-than-encouraging development that Byega is showing the property to potential buyers, as
the two houses are now listed on Zillow
.
Though Majewski still holds out hope that the artwork can be preserved, she says of Byega, "He's always told us from the beginning that he wanted to save the installation. In fact, while it was still in probate he contacted me and asked me to write a letter of recommendation for him to the court, which I did because I knew him already and I am still under the impression that his motivation is to preserve the work, to honor Dmytro's legacy ... That's how I ended up getting involved."
But once the houses became Byega's responsibility, that compulsion to preserve Szylak's work seems to have faltered. Majewski says, "It was only after he actually got the properties that we started to realize that whatever his intention had been that he was overwhelmed by the properties."
The group has held out hope that Byega would work with them somehow, but the situation seems to have deteriorated. Majewski says. "He was still enthusiastic and excited when we would talk to him, he just seemed to be overwhelmed."
In fact, Majewski isn't the only person who's puzzled by Byega's behavior. Rachel Lutz, proprietor of the Peacock Room, had an idea that perhaps the buildings could be bought turned into an appealing bed and breakfast, given the colorful artwork right out the window. It's a neat idea, one that would enlarge upon the way Szylak's artwork brought people to town.
Lutz visited the properties Monday, was given a tour by Byega, and, um … it didn't go well.
"I would say there's a lot of work to be done on both of those houses," Lutz says. "There's a lot of work to be done on the art installation itself. The price that I was willing to offer is probably nowhere near the price that he would be satisfied with, apparently. He actually wants to sell the pair of houses; if you want to keep Hamtramck Disneyland intact, you pretty much have to buy both the houses because it straddles the two properties. They're $60,000 apiece."
"I'm just really worried," Lutz says. "I'm worried he's going to want an outrageous amount of money and it's not feasible. If he truly believes in saving Disneyland, which he claims he is, he will do his best to be a steward to that property and not a seller."
Lutz's concerns make sense. The buildings are reportedly not in good condition, the artwork needs maintenance and is in poor condition, having been vandalized while the properties were vacant, and the insurance requirements for the unusual artwork must be expensive indeed. To ask somebody to pay top dollar for the two properties doesn't seem to acknowledge the hard realities of owning such an unusual complex.
"So I really think that if he's truly interested in protecting it," Lutz says, "he needs to get serious and get real. Because $120,000 for those is not real."
What's more, Lutz says that Byega, who complains about all the money he has devoted to the properties, is actively spending money on cosmetic improvements that don't matter to anybody who'd want to buy the properties to preserve Hamtramck Disneyland.
On yesterday's tour, he proudly showed off the new carpeting he is having installed over the original hardwood floors. Meanwhile, Lutz says, "The gutters are all jacked up, in disrepair. While we were on our tour, in the basement, water was pouring around the frame of a closed window. There was like an active river in the basement."
It's the sort of thing that frustrates Lutz. "He's claiming that he's poured all this money into the house and has to get his investment back. But he really has no clue what those houses need. The best thing you can possibly do is stop all work right now and just sell them to someone who actually appreciates what those houses are, and what they mean to that city."
Of course, all is not lost. It's early days yet, and the upbeat attitude of early spring home sellers can come down to more realistic feelings as summer draws near. And the informal group that hopes to preserve Hamtramck Disneyland says that one last-ditch possibility is to win a grant from the Wisconsin-based Kohler Foundation.
Majewski says, "They will buy, actually buy, folk art installations. And I think that there's maybe a couple of different ways they do it, but they may sell it back for a low price to local caretakers or work out some agreement with a local nonprofit. We've been in contact with Kohler, but they don't have another meeting until the middle of March. So we're on their radar, but no decision is going to be made."
And time is of the essence, because Hamtramck Disneyland is quickly falling apart. One member of the group trying to save it lives a few doors down and chases the kids away who mess with it. Another member tries to check on it weekly. "We started to just see that the thing physically was deteriorating," Majewski says.
That's why Majewski got Lutz involved. Lutz is a longtime fan of scrappy little Hamtramck, and wants to see it prosper. "I really care about the preservation of that project. It would be devastating if it fell into the wrong hands, somebody who was just interested in, you know, turning a buck. It needs to be someone who is passionate about arts, passionate about public art, passionate about Hamtramck culture. I really hope it finds the right buyer. Unfortunately, after reviewing it, I realized I shouldn't be the one who's taking it on, but I hope that the right person does find it."
If anybody is interested in pursuing the project or investing in the idea, Majewski and company are open to fresh perspectives. She tells us, "We've already written up a business plan that outlines different possibilities, kind of combinations of possibilities for those two properties if they were bought together. So there's been some serious work that's been done on sustainability and marketing strategy and all that kind of stuff. In fact, we also have a nonprofit, Hatch, that is willing to be a fiduciary for any kind of foundation money or something like that. So there's something of a structure and a plan in place or available to somebody who might want to step in."
Interested? Want to help save a unique piece of art? And maybe become an investor? Get in touch with Walter Wasacz on Facebook, or call 313-289-4611 and leave a message.