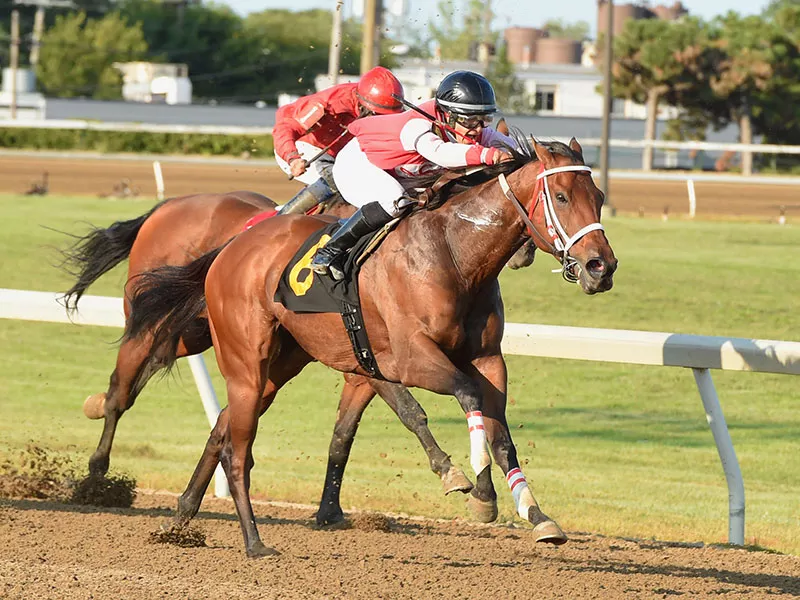 On the ramshackle backside of Hazel Park, beyond the barbed-wire fences and dilapidated jockeys quarters, a full moon hangs high in the west. The sun has yet to climb the hood ornaments of the beaten and battered cars in the beaten and battered parking lots, and all along the darkened shedrow of Barn 21, the horses begin to stir.
The bug girl has arrived.
Out on the holy oval, atop the strange and storied bull ring built here in suburban postwar Detroit, the sandy loam awaits. Unlike the rest of this scarred and sprawling old racetrack, it is majestic and serene.
Autumn is closing in.
As the barn cats scurry to their lairs and the solemn workday begins, the apprentice appears in the tack room. But this is no ordinary apprentice. This is Melissa Zajac, a longtime groom and sometime rider in the world of hunter/jumpers who decided last year — at the ripe old age of 29 — to try her hand at horse racing.
"No one thought I could be a jockey," she says.
No one, that is, but James Jackson.
Jackson, a towering and imposing figure in the thoroughbred world who once stepped in the ring with Muhammad Ali, saw something in Zajac. And he took a chance on her when nobody else would.
"She's got a little ornery in her," says the veteran trainer. "I like that about her."
He also likes her tenacity. "Her only problem," Jackson says, "is she can be a lady on the racetrack."
At the nicer tracks, Jackson says, you can afford to be a lady. But at Hazel Park, it's different.
"Here, it's dog-eat-dog," he says. "You've got some mean, tough riders here that just kick her around all the time. They don't want her to make it here."
But Zajac takes it in stride.
"It comes with the territory," she says.
Hazel Park outrider Teri Elliott and others on the backside had seen Zajac grooming and exercising horses here last summer, but aside from Jackson, nobody thought she had what it takes to be a jockey.
"I sure didn't," Elliott says. "At one time, I said, 'She ain't gonna make it. She can't even stay on a horse!'"
But now with 56 wins in 226 starts and nearly $400,000 in earnings this year, Zajac is making a name for herself.
"Them guys were roughin' her up on the racetrack," says trainer Merritt Dokey. "They don't want to see a woman beatin the hell out of 'em, And this girl here has been whippin' 'em to pieces."
"They've claimed so many fouls on her," Jackson says, "it's pathetic. It's just frivolous. They've done everything they can to try to stop her."
Since 2014, veteran rider Ricardo Barrios, of Panama, has led Hazel Park in victories every year. But with just two days left of live racing here this season, Zajac is hot on his tail, trailing Barrios 57-56.
Under the tutelage of the old boxer, the kid's got a fighting chance.
With the breakout year she's had, Zajac's agent, Frank "The Greek" Garoufalis, has been fielding phone calls from all over the country. After Hazel Park's meet wraps up on Monday, Zajac will travel to Churchill Downs in Louisville to compete against the likes of Calvin Borel, three-time winner of the Kentucky Derby.
"She's got good hands," says Garoufalis. "She's a natural. Horses want to run for her."
Since Hazel Park races only twice a week, Zajac journeyed to Shelbyville, Indiana, on Friday, where she rode an 11-to-1 longshot filly named Norman's Conquest to victory at Indiana Grand.
"I haven't seen one like her in a long time," says longtime barn hand James "Bloodhound" Blunt, who personally witnessed Secretariat's legendary victory in
the '73 Belmont Stakes
. "If she can handle them boys in Kentucky, she's gonna be alright."
After a 30-year hiatus, Hazel Park Raceway, which opened here atop an old landfill in 1949,
resumed thoroughbred racing in 2014
. In the long and storied history of Michigan horse racing, no apprentice jockey has ever won a riding title.
For a rookie, Zajac's feel for riding horses is remarkable. The Saginaw native, who now hangs her hat in Rochester, learned to ride racehorse style in unconventional fashion. Last summer when she was on the road with Jackson, Zajac would spend hours in her hotel room practicing her riding technique perched atop an oversized backpack.
Jackson fashioned some makeshift stirrups out of lead rope, and whenever Zajac wasn't sitting on top of a real horse, she would be on her backpack or a stationary mountain bike, practicing switching her stick from one hand to the other.
"That's how we got the flow goin'," she says.
Last September, when Jackson thought Zajac was finally ready to ride, they traveled to Cincinnati, where she broke her maiden at Belterra Park.
That's when the bug girl really caught the bug.
"There's nothing like it," she says. "When you turn for home on that final turn and you know you've still got horse under you and you start opening up, there's really nothing like it."
But it hasn't always been a smooth ride for Zajac. Last October while exercising out in Metamora, a gray horse reared up and hit Zajac in the head. She was hospitalized for three days and sidelined for months with a broken bone in her neck.
"People don't realize how dangerous this is," Garoufalis says.
Another one of Garoufalis's clients,
Hazel Park native T.D. Houghton
, was injured so badly in an accident at Great Lakes Downs one time, he actually received his last rites. But jockeys are resilient, and the 47-year-old Houghton, now closing in on 6,000 career victories, will be back in the irons in his hometown this weekend to compete against Zajac and Barrios.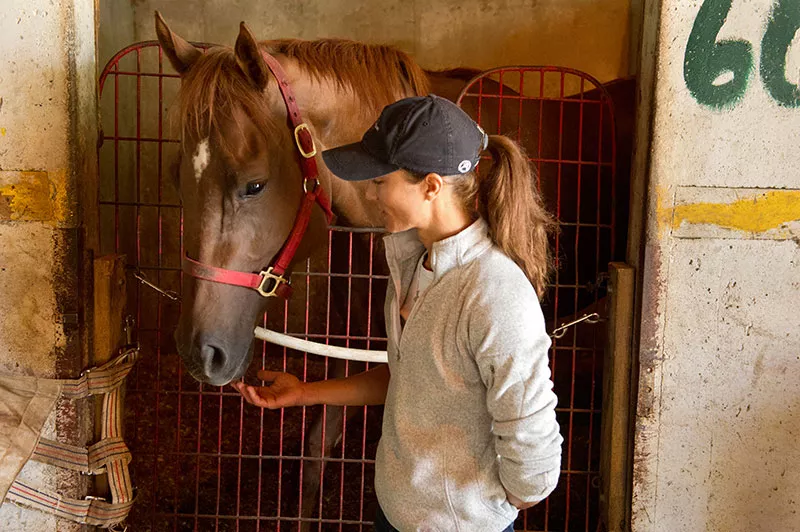 After another morning of galloping ponies around the track, Zajac makes her way back to the barn to muck stalls and rub legs. The jockey is still a groom at heart.
Outside, tucked between a neon-purple bowling alley and a hulking trucking depot recently built by Matty Moroun, half a dozen horses circle around on hot-walking machines in the warm September sun.
All along the shedrow of Barn 21, the apprentice meanders from stall to stall, wrapping and unwrapping bandages and making sure Jackson's horses are attended to.
In her unlikely quest for the Hazel Park riding title, the odds are against Melissa Zajac. But she's come too far to back down now. And she says she's in it to win it.
"I'm not going down without a fight."
Hazel Park's 2017 race meet concludes with nine races on Sunday, Sept. 17 (post time 4:30 p.m.) and Monday, Sept. 18 (post time 7:20 p.m.) Admission is free. Hazel Park Raceway is located at 10 Mile and Dequindre. For entries, visit equibase.com.