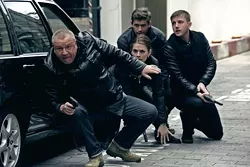 The SweeneyB-
Ray Winstone is a hard-ass character actor who's been kicking around the fringes of Hollywood for more than a decade, playing the kind of brooding, dead-eyed thugs that make lesser men piss their pants. He was Nicholson's right-hand man in The Departed and voiced Beowulf in Robert Zemekis' animated actioner.
In The Sweeney, he plays Jack Regan, the grizzled leader of an elite London police unit called the Flying Squad (aka the Sweeney). His team tackles high-profile armed robberies, often subduing suspects with body blows, baseball bats and ax handles. This unsanctioned approach (as well as Regan's dodgy sense of ethics) attracts the scrutiny of Internal Affairs, a situation that's further complicated by the fact that Regan is having an affair with its director's wife. Meanwhile, the execution of a customer during a jewelry heist points the Sweeney toward a particularly nasty group of international thieves. Michael Mann-style shootouts and spectacular car chases ensue.
If you watched any of the dozens of gritty BBC crime dramas that have reached our shores over the last decade (think Luther, Blood in the Wire, MI-6), The Sweeney looks and feels like a bigger-budgeted version of those productions. Part soap opera, part gimmicky police procedural, part actor showcase, there are enough cheap thrills and solid performances to have a look but not much to chew on afterward. In fact, The Sweeney is deeply mired in the disposable tropes of serialized television, being a reinvention of an iconic 1970s British cop show (which was supposedly notable for its uncomfortable realism). Even the show's trademark phrase — "We're the Sweeney, and you've been nicked!" — is integrated into Regan's hard-boiled repartee. Much like Hollywood's obsessive desire to recycle past television hits like SWAT, Miami Vice, Mission Impossible and Charlie's Angels, the Brits are translating their own boob-tube culture to the big screen.
Director Nick Love and his team have put together a serviceable thriller that trades in genre clichés and stylish action sequences. A Heat-inspired gunfight at Trafalgar Square is impressive in both execution and scope, and a climactic car chase is both slick and brutal, matching much of what Hollywood has been offering lately. But if you're expecting an original story, suspenseful plotting or compelling character interactions, you'll walk away disappointed. The Sweeney is all swagger and urbanity, an extended and expensive pilot for a promising television show of which we'll never see another episode. And is nice as it is to see Winstone strut his stuff, one wishes he'd just hop on the BBC crime series bandwagon and create a show that properly exploits his considerable talents.