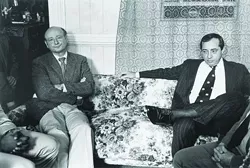 Koch | B+
With his breezy, avuncular style and faux-humble "How am I doin'?" catchphrase, the late Ed Koch was a masterful old-school politician with a grandiose personality nearly as large as the soaring skyscrapers of New York City, a town that he ran for a decade, but loomed over for much longer. This entertaining yet incomplete documentary about the career of the three-term mayor depicts the recently departed Koch pretty much as he was: unabashed, beloved and hated; a humble, blue-collar man of the people who loved the glitz of the limelight; a hero and scoundrel, all in one smiling, grandfatherly package.
The dynamic Koch rose to power in 1978, just as the Big Apple was rotting. Teetering on the verge of economic collapse, the city in those days was by most accounts a depressed, rusted-out and worn-down urban hellscape where violent movies like Death Wish seemed not so much like fantasy as documentary footage.
Once in office, the new mayor began to clean up the mess of previous administrations, which left the city in massive debt and perpetually vulnerable to disasters, like the notorious summer 1977 blackout that led to riots, looting and lingering animosity. "Hizzoner" managed to stabilize the anarchy, but his heavy-handed style tended to infuriate those in the path of his reforms. As gregarious as he was in front of a camera, Koch could be merciless in governing; never more so than when he abruptly forced an end to a transit workers' strike, a fairly radical maneuver for the time, and one that put the unions on high alert.
He never seemed afraid to rattle his own traditional Democratic Party power base, as when he closed a venerable Harlem hospital that was a training ground for black doctors. It was a move that generated a lingering resentment, and added to racial tensions that chased Koch to the grave. Also polarizing was his muted response to the spiraling AIDS epidemic in the early '80s. Inaction or perceived reticence to the raging health crisis made the mayor a pariah in the gay community, a relationship complicated because Koch was, in the language of the time, a "confirmed bachelor."
He never married and steadfastly refused to address the issue of his sexuality publicly, though rumors that he was gay dogged him throughout his career. He never forgave one-time rival Mario Cuomo for posters that appeared in the subways, blaring a cheap, naughty, nursery rhyme-like slander about Koch's much rumored sexuality. That enmity extended to Cuomo's son Andrew, who grew up to become governor himself, and whom in hilariously candid footage from election night 2010, Koch calls "a real schmuck."
He had an elephant's memory for slights, and, as some opponents suggested, the one-time strong progressive gradually began to resemble a political elephant in many other ways. Missing context about Koch's upbringing and life before his time in the spotlight might have helped round out the portrait, but there's a decent amount to chew on already.
Warts and all, Koch fiercely marketed the idea that being mayor of New York was the second-hardest job in the nation, and that the man who held the job owned a chunk of the national spotlight. It was a premise clearly embraced by his imperial successors, like Rudy Giuliani and Michael Bloomberg, though no one since has displayed quite the same mix of charm, calculated muscle and élan that made Ed Koch so memorable.mt