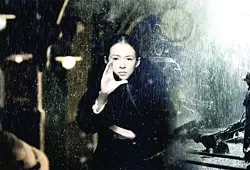 The Grandmaster | B
Director Wong Kar Wai's epic stab at the life of the legendary Ip Man, a martial-arts master who taught Bruce Lee, was reported to initially run more than four hours. From this rough cut, the Weinstein Company has released a two-hour film that bears all the extravagant style perfectionist filmmaker Wai can muster, but suffers from a sketchy biography that lurches along.
Mostly set between 1930 and 1952, The Grandmaster follows Ip Man's years in Foshan, the loss of his family and fortune during the second Sino-Japanese War and his eventual self-imposed exile to Hong Kong — where he became a renowned martial-arts teacher.
Exploding onto the screen with the smiling Ip Man (Tony Leung Chiu-wai) facing off against an army of opponents in a rain-drenched alley at night, Kar-Wai uses a pre-credits confrontation to make clear that his approach to history will be elegiac; his fight sequences will be exaggerated, filled with the kind of gravity-defying wire work featured in wuxia films.
Gong Yutian (Wang Qingxiang), a martial arts master from the North, comes to Foshan to name impudent Ma San (Zhang Jin) as his heir to the North. When he encourages the South to name its own champion, his daughter Gong Er (Zhang Ziyi) worries he will lose for the very first time in his life — to Ip Man.
But instead of a physical showdown, the two warriors engage in a philosophical contest and Gong Yutian declares Ip Man the winner; later that night, his daughter attempts to regain the family's honor by squaring off against Ip in a stunning staircase fight.
Romantic yearning and jaw-dropping action flow together as Kar-Wai demonstrates why so many admire his work. The scene sets the stage for another of the director's explorations of how time and fate are the tragic barriers between his characters and emotional fulfillment.
In the director's world, those who should be together are destined to drift apart and, then, to later meet to consider what might have been. Unfortunately, what falls between the then and now is awkwardly episodic, a pedestrian biographical journey that belabors minor moments and glosses over pivotal events. What's worse, the film's jarring edits end up baffling the narrative.
For instance, much is made of Ip Man's desire for a suitable winter coat before his trip north to see Gong Er, but the starvation death of his daughter is relegated to a passing mention. Leung's strangely all-knowing voice-over is clearly meant to provide contextual glue to the sprawling start-stop story, but ends up serving as a clunky and unenlightening attempt to connect the dots.
Kar-Wai seems more interested in providing a poetic chronicle of Ip Man's martial arts traditions and values than any insight into the man himself. Only a final teahouse conversation between Ziyi and Leung hints at the heartbreak and regret that is suppressed beneath their impassive exteriors.
What remains to be savored are The Grandmaster's sumptuous visuals and bravura fight sequences. Expertly orchestrating motion, texture and a vibrant spectrum of light and color, Kar-Wai composes an astounding visual symphony. He brings together his ravishing period costumes, dramatic natural elements, and arresting settings with painterly precision and intricacy. A brutal fight between Ziyi and Jin in the rain, atop a train platform as trains race by, is one of those iconic movie sequences that both lingers in the memory and influences filmmakers to come.
Leung is a similarly gorgeous visual subject, filled with grace and nuance. It's fair to say that Kar-Wai's camera can't seem to get enough of him. Ziyi is equally ravishing, conveying more defiance, longing and sorrow in her eyes than any dialogue could express.
Taken together, it's almost enough to compensate for disastrous storytelling; but not quite. One can only hope that Kar-Wai, who took 14 years to complete Ashes of Time, dedicates himself to releasing a more definitive version of The Grandmaster, honoring his breathtaking cinematography and gorgeously stylized action sequences with a biography that is equally engrossing.
The Grandmaster opens Aug. 30 and is rated PG-13 with a running time of 123 minutes. (In Mandarin with English subtitles.)