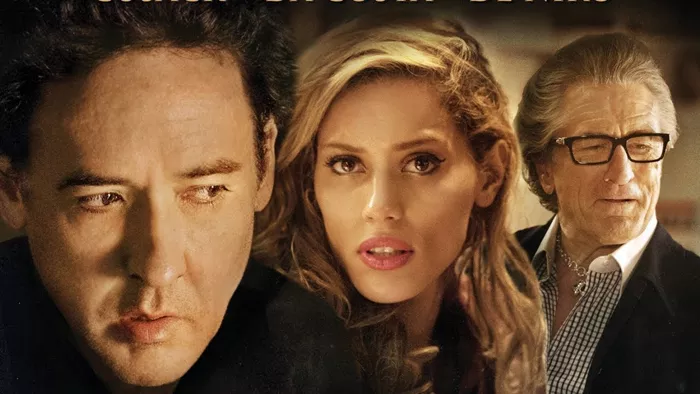 The Bag Man | C
When did John Cusack become Nicolas Cage? At least as talented and far more likable, the actor has starred in a remarkable number of forgettable thrillers as of late, never turning in a bad performance but mostly just sleepwalking through them. Add The Bag Man (nee Motel) to an uninspired list that includes The Raven, The Numbers Station and The Factory. It's ground-level work for an actor whose early career choices were dominated by smart, offbeat work.
Cusack is a disheveled hit man who's hired by Lou Dragna (Robert De Niro), a satanic gangster bedecked with pompadour and gold jewelry, to pick up a mysterious bag and wait for him at a backwoods Louisiana motel — Room 13, of course. Jack is promised an obscene amount of money under the condition that he never looks in the bag.
Things get off to a rocky start when the bag's courier tries to kill him. His hand wounded and his phone smashed, Jack retreats to the seedy motel. It's the kind of place where the neon constantly flickers and cell service, the Internet and bars of soap have never really caught on. The desk clerk is a nervous fella in a wheelchair (Crispin Glover). The regulars include an eye-patched pimp (Sticky Fingaz), his Serbian dwarf partner (Martin Klebba) and Rivka (Rebecca Da Costa), their 6-foot-tall prostitute — who, of course, comes to Jack for help. Is she a scantily clad friend or foe? As each self-consciously oddball character becomes a violent wrinkle in Jack's supposedly simple assignment, the body count starts to climb. This catches the interest of a sadistic sheriff (Dominic Purcell) and his leering deputies.
The plot thickens, as they used to say. But that doesn't mean it's any good. Director and co-writer David Grovic creates a passable sense of atmosphere and, at first, a modicum of intrigue in a dark comedy that ends up feeling like one of the many late '90s knockoffs of Quentin Tarantino's work. You know what I mean: 2 Days in the Valley; American Strays; Truth or Consequences, N.M.; Smokin Aces; Things to Do in Denver When You're Dead. Each had eccentric low-lifes who had off-kilter conversations and made meaningless pop culture references between gunfire and bloodletting. The Bag Man is no different. De Niro waxes poetic about Hermann Hesse and the sitcom Full House, but to no real effect. It's quirk for quirk's sake. And none of it is particularly well-written or -directed. Cusack and De Niro never quite embarrass themselves, but the material is clearly beneath their talents.
Ultimately, everything in The Bag Man ends up an affected contrivance, and none of the character motives really make a whole lot of sense. Grovic tries to keep you guessing by leaving details vague, but it's the movie that ends up feeling vague. There is, in the end, a final explanation for everything you've seen, pilfering twists from Se7en and Angel Heart for a conclusion that's more tacked-on than earned.
The Bag Man opens Friday, March 7, at the Birmingham Palladium. It's rated R and has a running time of 108 minutes.