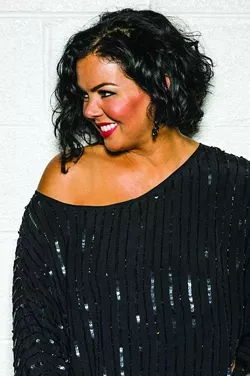 Eyebrows may be biologically designed to keep eyes sweat-free, but if we want to look more Brooke Shields than Groucho Marx (and bold brows are in), we need to know our way around a pair of tweezers.
Get into complicated issues like powder or pencil, brushed on a diagonal or straight up, natural ends or not, and you gotta get out the owner's manual — or consult an expert. Enter Birmingham makeup artist and eyebrow guru, Barbara Deyo.
"You know how to do it or you don't," Deyo says. "Sometimes you can do permanent damage. Some things you should just leave to a professional. Eyebrows are one of them."
Deyo does makeup for weddings, charity events, fashion shows, photo shoots and movie press junkets and gives private makeup lessons. She estimates that around 80 percent of her weekly business is eyebrows.
What Deyo describes as "just kind of a fluky thing," may be more like fashion kismet. As a high school student in Madison Heights, she just happened to get a part-time job at a makeup counter at what was then known to Detroiters as Hudson's department store. She is now one of the top makeup experts in the country, with a list of celebrity clients that would make a tabloid writer salivate, and a list of magazine credits that include Redbook, Rolling Stone, People and Seventeen.
"I always wanted to be a writer," says Deyo, who studied journalism and has worked in radio, television and PR, "but I was very good at makeup."
She does write a monthly column for the Observer and Eccentric's monthly women's magazine insert. "I write a lot about taking care of yourself," Deyo says, "[like] how to do a five-minute face, how to do a smoky eye."
Seventeen years ago, Deyo moved back to Detroit after a long stint in Los Angeles. She was waitressing when a chance meeting launched her back into makeup, as reporter Kristin Smith's makeup artist. Deyo did stints at Red Salon and Todd's Room before hanging out her own shingle. Over the years, she has culled a treasure trove of personal stories to share.
"I watched the World Series with Tommy Lasorda," is one of her most cherished memories. It was just me and him in the makeup room and he's giving the play-by-play critique." Paul McCartney, she says, "… was so nice. We just talked about normal everyday things. Kid Rock at the Super Bowl was pretty cool too." She recalled shooting an album cover for Bob Seger, "It was so cool to be in that history, to be in his studio, in that home with all that creativity."
Deyo can name drop with the best of them, but her business, connections and stories are personal. "It's about relationships," says Deyo, who credits her dad with much of her business philosophy. "It doesn't matter what you're selling because you're selling yourself," she says of his philosophy.
Reflecting on recent changes in her career, she notes that although she continues to do the fashion shows, press junkets and events, she is more content to be in her salon, enjoying the relationships she's formed with customers over the years, as well as the changes coming with being mom to a 5-year-old son.
"I have a great clientele. I have clients I've had all the way through. You really do bond with someone, especially when you're part of a special day in their life," she says.
Click here to visit Barbara Deyo's website
Beth Robinson writes about fashion for the Metro Times. Send comments to [email protected]