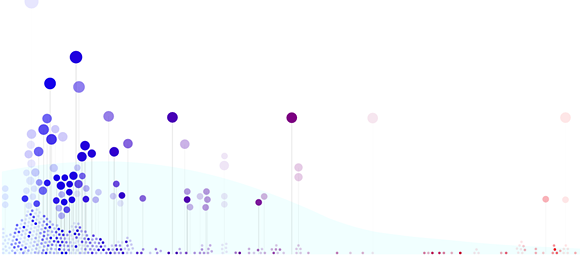 Like many people around the country, Princeton student Zachary Liu was flabbergasted when Donald Trump won the 2016 presidential election. He was sure most everyone he knew — and most everyone he didn't — were voting for Hillary Clinton.
But, what evidence did Liu have to base that hypothesis on? Nothing more than his Facebook feed and a little thing called a
filter bubble
.
So, he sent about finding a way to burst his own political and social bubble and figure out a way to re-shape his world view in a way that better reflects reality. What he came up with is a browser extension that reveals the way information is presented to you in your Facebook feed.
Install the browser extension— it's called PolitEcho BTW — and it will reveal to you whether your bubble is blue (to the left), red (to the right), or purple (somewhere in the middle). Furthermore, it shows you who appears most on your feed and what their political leanings are based on what pages they "like." It's pretty fun.
In the end, it doesn't change the way you interact with your Facebook feed, the same things will appear on your page with the same frequency, but at least you're aware of the situation. And you know what they say about admitting there is a problem.
You can install it in your browser by
clicking here
. It only takes a minute, but since you will need to wait a few moments for it to digest all your Facebook information, if prompts you to read a story on Slate about
how the social network shapes your world view
, which is kind.