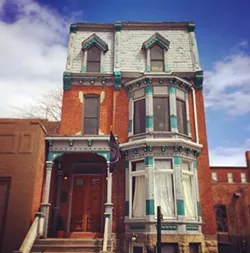 Tomorrow, the
Urban Consulate
will host a Connect Four-themed forum for Detroiters to meet up, play the game, and connect with one another about the issues going on in the city.
Urban Consulate is an organization that seeks to build a network of urban parlors where city dwellers and travelers can visit to partake in the exchange of knowledge and community.
Detroit's location in the heart of Cass Corridor is one of three pilot parlors (Philadelphia and New Orleans being the other two) and was opened on April 1.
In a press release for the Connect Four the City, Clair Nelson, General Counsel for Urban Consulate said, "It's been a pretty intense month, with an extra dose of political divisiveness. We want to counter this with more connection & love."
The event is hosted by Melinda "MeMe" Anderson, program manager for the Detroit Design Festival and self-crowned Connect Four champion. The event is free, open to all ages, and visitors are encouraged to share their ideas for a more healthy and connected city.
Just be warned- Melinda takes her championship status VERY seriously.
You can get your game on tomorrow from 4-7 PM at the Urban Consulate in Midtown, located at 4470 2nd Avenue.