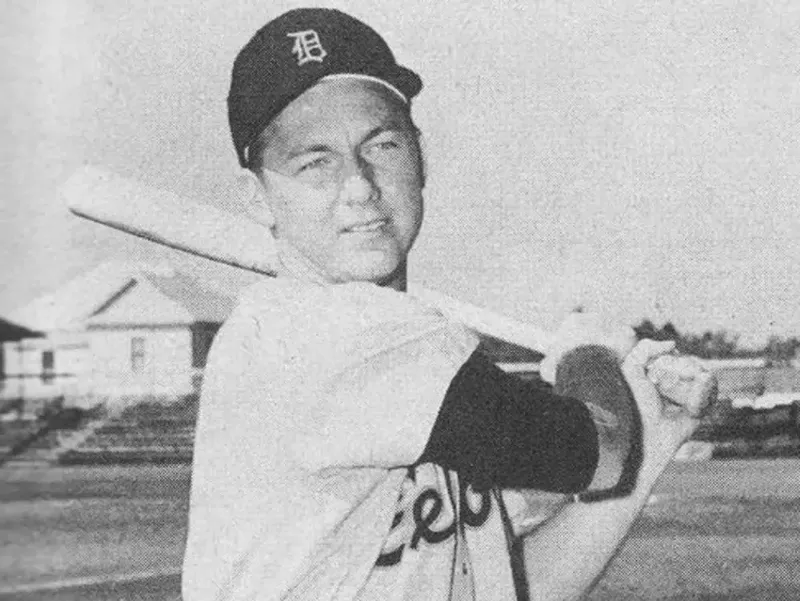 Baseball Hall of Famer Al Kaline, who patrolled right field for the Detroit Tigers from 1953-1974 and helped lead the team to victory in the 1968 World Series, died Monday afternoon at his home in Bloomfield Hills. He was 85.
Born in Baltimore in 1934, Kaline joined the Tigers right out of high school as an 18-year-old outfielder in 1953. The following year he became the team's starting right fielder. He would man the position for the better part of 20 years, bringing fans to nickname right field at old Tiger Stadium "Kaline's Corner."
In 1955, at just 20 years old, Kaline won the American League batting title with a .340 average. He was one day younger than
Ty Cobb
was when Cobb won the crown in 1907, making Kaline the major leagues' youngest batting champion ever, a record that still stands today.
In 1968,
Kaline came back from an injury late in the season
to help lead the Tigers to a world championship over the St. Louis Cardinals in a dramatic seven games, just a year after
Detroit's deadly rebellion of 1967
.
"Al was the best player I ever played with," said former Tigers pitcher Denny McLain, who won 31 games for Detroit in 1968. "When he wanted to play — with no exceptions, he was the best I ever saw take the field.
"He knew how to play in the first inning, the fifth inning, the seventh, eighth, and ninth inning. That's a talent that's been lost. Today, everybody's playing three outs at a time."
Detroit historian and Tiger Stadium Fan Club co-founder Frank Rashid fondly recalled his boyhood idol.

"Like many Detroit kids growing up in the 1950s and '60s, I worshipped Al Kaline with almost religious intensity, emulating his batting stance and the way he caught and threw, memorizing his stats, reading everything written about him, dreaming through the off-season of him at bat or in the field," Rashid said. "I'm not that good at math, but I taught myself how to figure out his batting average — even between at-bats during the games. He was like the ballpark, a constant presence in our emotional lives from the time we were small until we were old enough to turn his retirement into something metaphysical."


Over the course of his career in Detroit, Kaline hit .297 with 399 home runs and 3,007 hits, and was
elected to the National Baseball Hall of Fame
in his first year of eligibility in 1980.
"When I was a youngster," Kaline said in
his induction speech
, "life was a baseball game. There was nothing more exciting than a good old game of ball."
After his playing days, Kaline teamed up with former Tiger George Kell to form a long-lasting partnership in the WDIV-TV broadcast booth from 1976-1996.
"When he and George were together, they were very funny," McLain said. "Neither one had control of the English language well enough to be the next Bob Costas, but they had entertainment value. Down-in-the-trenches value. Between the two of them, they played a million games. If they told you something, you knew it was the truth."
Kaline was such a fixture for so many years at Tiger Stadium that he once said perhaps it ought to be his final resting place. Before
the final major-league game at Tiger Stadium
in 1999, Kaline told Channel 4's Fred Heumann that he wouldn't mind being buried in right field someday.
"I'm thinking about maybe having my ashes spread out here," he said with a laugh.
Kaline was as admired off the field as he was on it. "A more humble, classy player I will never meet," said former Major League Baseball director of community affairs Celia Bobrowsky.
"Although Al signed thousands of autographs, he preferred not to sign while he was eating," Bobrowsky said. "I sat next to him at a luncheon once when a man approached him with a photo he was going to ask Al to autograph. I asked the man if he wouldn't mind if Al signed the photo after he finished eating. The man understood and walked away. Not one minute had gone by after Al finished his meal, when he stood up and said, "Let's go find that guy who wanted me to autograph that picture."
After his broadcasting career, Kaline joined the Tigers' front office in 2002 and served for 17 years as a special adviser to Tigers general managers Dave Dombrowski and Al Avila.
He is survived by his wife, Louise, his
sons Mark and Mike, and four grandchildren.

Stay on top of Detroit news and views. Sign up for our weekly issue newsletter delivered each Wednesday.