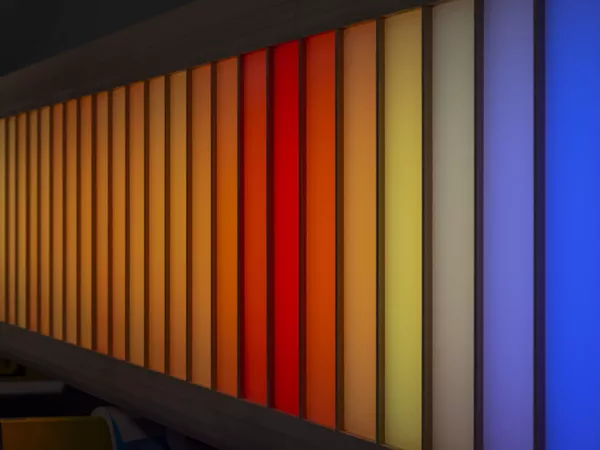 The pedestrian bridge linking downtown Detroit's Guardian Building and One Woodward
is
set to get a colorful makeover this weekend.
The bridge will be outfitted with lights that will shift in color, becoming "a floating bar of light hovering over the streets of downtown Detroit," according to a press release from Detroit's Library Street Collective Gallery. Dubbed "Detroit Skybridge," the project by artist Phillip K. Smith, III has an unveiling and artist reception planned for 8-10 p.m. on Saturday, Aug. 25 at downtown's Spirit Plaza. (A rain date is planned for the same time on Sunday).
The project was facilitated by Library Street Collective along with Bedrock Detroit and Wayne County. Based in Palm Springs, Calif., Smith has also created
trippy, large-scale works for Coachella Music & Arts Festival
.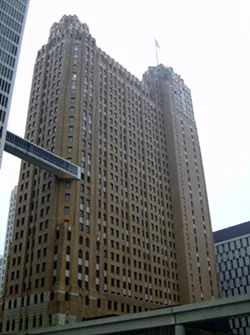 "This project presents an entirely unique art experience outside of the traditional bounds of the museum or gallery, positioning itself within the public realm for all to experience freely," Smith says in a release. "By day, the Skybridge will continue to be seen as its historical self within the architecture and massing of downtown. But by night, it will become a beacon for the beauty, creativity, and innovation of Detroit."
Smith adds, "I am interested in creating experiences that tap into 'universal beauty' — experiences that make us step away from our pattern, our life, our work, our errands, and allow us to see sublime beauty shifting and changing before our eyes."
The 100-foot 16th-floor pedestrian bridge was built in 1976 by architect Gino Rossetti so workers could move between offices across the two buildings. After one of the tenants moved out in the late 1990s, the bridge fell into disuse and was eventually closed.
Detroit Skybridge is the second unveiling of an alternative use of one of Detroit's pedestrian bridges. Earlier this year, burger joint
Brome Modern Eatery
opened the Balance Juice Bar in
the pedestrian bridge
that links the 607 Building the neighboring State Savings Bank building.
Get our top picks for the best events in Detroit every Thursday morning. Sign up for our events newsletter.