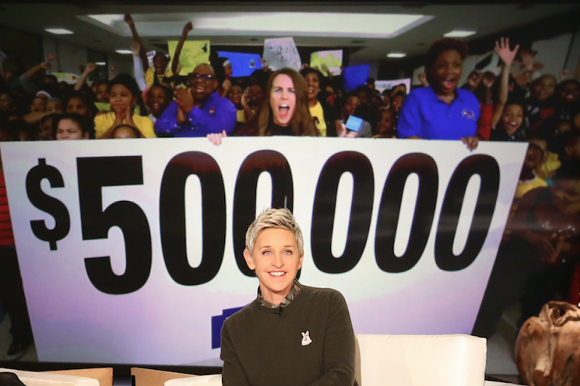 Detroit is getting the DeGeneres treatment.

The talk show host is spreading her limitless generosity to Detroit Public Schools, particularly to Spain Elementary-Middle School. The schoolhas, like most DPS schools, faced a lot of problems in the past few years. With its collapsing roofs, freezing classrooms and lacking supplies, Spain grabbed DeGeneres' attention.

So, in typical Ellen fashion, she partnered up with Lowe's and donated $500,000 to the school.

Airing at 3 p.m. on WDIV, the funnywoman sends her assistant, Jeannie, to Detroit, surprising both the students and staff with checks and tech goodies.

The surprises didn't end there. DeGeneres also brings out Justin Bieber. While he may not be the most liked guy in America, he earned himself some credit by promising to donate $1 for every ticket sold at his show at the Palace on April 25.
DeGeneres also set up a GoFundMe page for Spain Elementary-Middle School, hoping to continue fundraising for the school. The fund has already raised nearly $17,500.