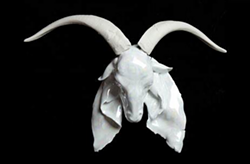 CANVAS: IN PARADISE
Canadian artist David R. Harper begs his viewers to explore the idea of ideal and dystopian notions in his latest collection, titled In Paradise. Memorializing the spirit of animals and comparing varied ideas of mortality, Harper pays homage to nature by imitating the idea of taxonomy by using vitreous china, ceramics, embroidery, glass, and cast sculptural works made of paper. The work is clean, pure, and fragile, yet stoic and dark with its overcasting shadow of death. The Butcher's Daughter is displaying Harper's ability to bring a surprising beauty to the idea of mortality until June 28. The gallery is open 11 a.m.-6 p.m. at 4240 Cass Ave., Detroit.
STAGE: INTO THE WOODS
If you don't feel like reading Into the Woods before it hits movie theaters next year, you might consider catching a live performance of the play at the Ringwald Theatre in Ferndale. The original story, written by Tony winner James Lapine, combines multiple Grimm fairytale characters that are all in need of some life lessons. The Ringwald's production, directed by Joe Bailey with music direction by Jeff Bobick, has a 10-person cast and, of course, a piano for the main course of music. Sure, the movie might feature Johnny Depp, Emily Blunt, and Meryl Streep, but nothing could get you more excited for that than a live production … not even reading the book. The play runs at 8 p.m. on Fridays and Saturdays ($25), 3 p.m. on Sundays ($20) and 8 p.m. on Mondays ($10) until June 2, at 22742 Woodward Ave., Ferndale; 248-545-5545; theringwald.com.

CANVAS: SILENT ART AUCTION
Twenty local artists, including Robert Sestok, Ryan C. Doyle, and Carl B. Oxley III will be up for bidding in a charity event at Corktown Studios for Green Living Science. The evening, titled Art and Amble, will also include a strolling dinner featuring food from Dave Mancini (owner of Supino's), tastings from new eatery Laika Dog, and a live performance by the Detroit Party Starship. All this and it's even for a good cause: Green Living Science is a program that was started by Detroit's Recycle Here Center, which teaches students in the Detroit Public School System not only the importance of the "3 Rs" but also the science behind it. Although the event isn't until May 31, the $50 tickets are going fast. For more info, visit corktownstudios.com.
CANVAS: THINGINESS AND NOTHINGNESS
Detroit's N'Namdi Center for Contemporary Art has a few exhibits on display. One in particular, Thinginess and Nothingness exhibits Nigerian artist Osi Audu's geometric paintings. "My work is about the skin of things, and the dualism of thinginess and nothingness, light and dark, volume and void," Audu says of his work. The mixed-media artist plays with an idea that his ethnic group, the Yoruba, refers to as outer/inner head. Emptiness vs. Fullness. Juxtaposing a complete but empty drawing against its fully colored and textured counterpart, one is able to examine a metaphor for perception. Audu's work and other displays will be in the gallery all through the summer (until Aug. 16) noon to 6 p.m. Tuesdays through Saturdays, at 52 E. Forest, Detroit; 313-831-8700.