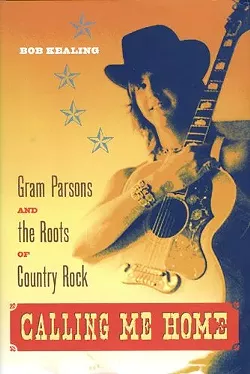 When Bob Kealing met Margaret Fisher to talk about her relationship with legendary country-rock singer Gram Parsons, it was sort of a moment of epiphany. Kealing was working on a book about the legendary singer who never found the success he thirsted for until after his tragic death in 1973, and he could tell that Fisher had become weary of telling the same story over and over.
"At one point, we're sitting in this café … and I told her: 'You know, I really don't want to know about Gram's death,'" Kealing recalls. "And that's when she said to me: 'Imagine being defined by the worst day of your life.'"
Fisher first met Parsons when the two were students, and they reunited a decade later and picked up right where they'd left off. They were living in California, and both were heavy partyers — Parsons, in particular, had become such an abuser of drugs and alcohol that he'd become heavy and bloated, and his marriage was in a shambles. The 26-year-old musician had recently left his wife behind to record his album Grievous Angel, with Emmylou Harris. When recording was complete, Parsons and Fisher holed up in a room at the Joshua Tree Inn to celebrate the new record. Parsons, who'd been drinking all day, had scored some morphine and apparently he took too much. By the time Fisher was able to get help, it was too late. The up-and-coming young singer had overdosed, and Fisher's name has been tied to that moment ever since.
Likewise, so has Parsons' brief musical career. Though he's been noted as a highly influential musician who helped establish modern country and alt-country music, Parsons never had a hit record — his most popular album, Gram Parsons Archives Vol. 1: Live at the Avalon Ballroom 1969, wasn't released until more than 30 years after his death. Other than that, Grievous Angel was his most successful album, and even that wasn't released until after he died. It only reached No. 195 on the Billboard charts. As a result, his melancholy persona, drug addiction and — mostly — his untimely death have become as much a focal point of his fame as his music.
Indeed, imagine being defined by the worst — and last — day of your life.
That's part of the reason that Kealing's new book, Calling Me Home: Gram Parsons and the Roots of Country Rock, is so refreshing. While most retellings of the Parsons story let the tragedy of his drug abuse and death define the narrative, Kealing wanted to tell a different story. That's a point he had to make clear in many of the interviews he conducted with Parsons' family, friends and former bandmates, all of whom have grown accustomed to the typical lines of questioning about their relationship with Parsons.
Kealing traces Parsons' life from childhood through death using letters, images, music and an exploration of the musical climate in the South that helped influence the young Parsons and his peers. Born to a well-off family plagued with substance-abuse issues, depression and dysfunction, Parsons is alternately looked at by those around him with admiration or disdain — he's either a mythical musical genius or a poor little rich boy who squandered the opportunities presented to him. But Kealing's matter-of-fact approach creates a sympathetic human portrait of the man that neither glosses over nor sensationalizes him. Kealing allows interviewees to pay their respects or air their grievances without stripping them of dignity. There is no sense in reading the book that Kealing approached this project to prove a point — and that's one of the beauties of it.
During his life, Parsons brushed elbows with some of the biggest names in rock and country — the Rolling Stones, Roger McGuinn, Charlie Louvin — though he never enjoyed the same success as a lot of the people he knew and worked with. "The more I researched him, the more I found he was like a Forrest Gump figure," Kealing says. "He was in and out of so many music scenes in the '60s … and he always seemed to be in interesting places at the right time."
Much of that element of Parsons' life has been well-documented, but some of the more mundane musical and personal relationships hadn't been explored. Kealing talks to Parsons' childhood friends, schoolmates and neighbors, as well as early musical colleagues. Encouraging them to talk openly was cathartic for some — particularly those former friends who took part in the drug abuse and drinking but don't care to sensationalize it these days.
"There's really an element of redemption in this book," Kealing says. "Whether it's Polly Parsons [Gram's daughter] running a substance-abuse center or other musicians saying, 'Hey, that could just as easily have been me.'"
Erin Sullivan is editor of Orlando Weekly, where a version of this article first appeared.
Send comments to [email protected]