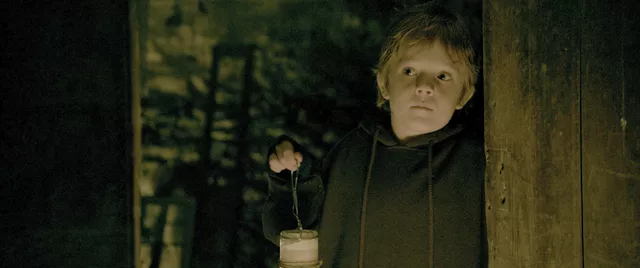 The thing no one tells youabout the Sundance Film Festival is that it's all about the shuttles. Seriously. Park City is a town of roughly 7,500 people and — for one week each January — Sundance draws 50,000 film fans, industry insiders, press reps, and Hollywood wannabes, who descend on the cozy mountain town and crowd every inch of condo, roadway, restaurant and bar space available. The buses that circle and loop the sometimes far-flung theaters, event venues and parties act as Sundance's slow-moving circulatory system, putting together people who might not otherwise meet.
For those trying to catch as many films as possible, riding the shuttles can be a kind of hell, thwarting even the best planned itinerary. For those afraid of germs, they are a coughing, sniffling Petri dish that requires an on-board supply of hand sterilizer. And for anyone hoping to make a business connection, they are a terrific opportunity to strike up conversations with random producers, filmmakers, composers or members of the press. As a result, shuttle passengers, when they're not fretting over whether they'll get to their movie on time, are constantly sizing up other shuttle passengers.
The first scan is for face recognition — is the guy with the beard and Ray-Bans someone I know? Next comes the badge check. Festival attendees wear lanyards with color-coded ID cards. Red typically denotes someone of importance, green is for members of the press, gray for industry. Passengers surreptitiously attempt to check the name, affiliation and occupation of those beside them. After all, movie producers are difficult to spot (expensive winter wear notwithstanding) and indie filmmakers aren't exactly adorning the cover of Entertainment Weekly. Should the eyes fail, the ears then tune in. Fellow bus riders eavesdrop on one another then deftly dance themselves into position near studio insiders. "What have you seen that you like?" morphs into "What's your next project?" soon followed by "Can I get your card?"
Unlike most film fests, Sundance is as much about networking and deal-making as it is about indie movie-watching. Starting at breakfast and running through midnight, parties and panels are scheduled in two-hour blocks at various bars and restaurants, and the competition to gain entrance can be fierce. Get invited to enough events, and you don't need money for food or drink. Walking down Park City's Main Street each evening, it's pretty common to witness friends of friends of friends arguing unpersuasively that they must have been mistakenly left off the guest list.
Most of the films at Sundance were seeking distribution or sale. Every day brought news of new acquisitions. This year's big winner was Nat Faxon and Jim Rash's (who co-penned The Descendents) The Way, Way Back, which was snatched up for $10 million. The summer vacation coming-of-age tale has a top-notch cast that includes Steve Carell (playing it straight), Sam Rockwell and Allison Janney. It's entertaining enough but pretty formulaic stuff. Honestly, I liked the film better when it was called Adventureland. Raking in another $4 million was Joseph Gordon-Levitt's writing and directing debut Don Jon's Addiction. Levitt plays a Jersey Shore-style hunk who is addicted to online porn and can only be saved by Scarlett Johansson. We should all be so lucky. It's more engaging than you might expect.
The Weinstein Company, as usual, bid aggressively for flicks and snagged critical rave Fruitvale (which deals with the real-life police shooting of an unarmed man at a San Francisco train station), Concussion (which is a bit like the lesbian version of last year's sex addiction drama Shame), the toe-tapping documentary Twenty Feet From Stardom (a portrait of back-up singers) and Lovelace, the much ballyhooed biopic about 1970s porn star Linda Lovelace (played by Amanda Seyfried).
Other high profile sales included Michael Winterbottom and Steve Coogan teamed up for a third time to make The Look of Love, a shallow but watchable biopic about Paul Raymond, the British smut peddler who became a fabulously wealthy real estate magnate. David Gordon Green (Pineapple Express, George Washington) returns to his indie roots with the minimalist character study Prince Avalanche. Paul Rudd and Emile Hirsch play a pair of Texas road maintenance workers who, well, talk a lot. The humor and revelations are minor at best but the performances are first-rate.
For those who have no patience for talky indie fare, Sundance's midnight programming served up We Are What We Are, a horror-drama that attracted healthy crowds and a seven-figure sales price. This slow-burning creepfest about a reclusive and religious family of cannibals was well-acted and -directed, but gorehounds may be too impatient to wait for the final half hour of batshit crazy violence. On the flipside, SVHS offered up a bloody quartet of found footage vignettes. This sequel to cult fright fave VHS has a few interesting ideas and a significant number of jump scares (the guy seated beside me screamed three times) but suffers from unforgivably atrocious writing. Scraping the bottom of the late-night barrel was Ass Backwards. June Diane Raphael and ex-SNL player Casey Wilson star in a female version of Dumb And Dumber that's lighthearted and desperately unfunny.
As usual, the true Sundance gems were the documentaries and premieres. Korean filmmaker Chan-Wook Park (Oldboy, Sympathy for Mr. Vengeance) debuted Stoker, and, despite its Hollywood pedigree (it boasts such A-listers as Nicole Kidman and Mia Wasikowska), Park's highly twisted sensibilities remained intact. Also willing to disturb, was Daniel Radcliffe in Kill Your Darlings — not because his movie is too dark but because Potterphiles may not be ready to see the former teen wizard French kiss another man. Radcliffe shines as the budding poet Allen Ginsberg, and he's joined by a sterling cast, including Ben Foster as William S. Burroughs, and Dane Dehaan (Chronicle) as the boy who sets other boys' hearts aflutter. Most of the documentaries were of the "people suck" variety. One such doc, Blackfish, examined the exploitation and abuse of orcas by theme parks like Sea World. It's not as galvanizing as the Oscar-winning The Cove, but should still attract and appall sympathetic audiences.
For me, the best of the fest was Before Midnight, the third installment in Richard Linklater's cyclical study of life and love (starring co-writers Ethan Hawke and Julie Delpy). Smart, funny, and filled with small but profound insights, it delivered everything fans of 1995's Before Sunrise and 2003's Before Sunsethoped for, proving that after nearly 20 years, Jesse and Celine are still a fascinating and lovable couple.
If I have one regret, it's that I wasn't able to catch Escape from Tomorrow. Probably the most buzzed about movie at the fest, Randall Moore's black-and-white indie was audaciously shot inside Disney World and Disneyland without the park's knowledge. Suicide, ghoulish princesses and vomit all play a role in the film's nightmarish narrative and audience reactions were mostly positive. Neverthless, don't count on catching the movie at your local cineplex. Rumors of an impending lawsuit from Disney loom large.
Biggest revelation at Sundance:In my quest to find the quintessential Utah dish, I asked several Utahns what their signature cuisine was. The answer, each and every time, was green jello with shaved carrots.mt