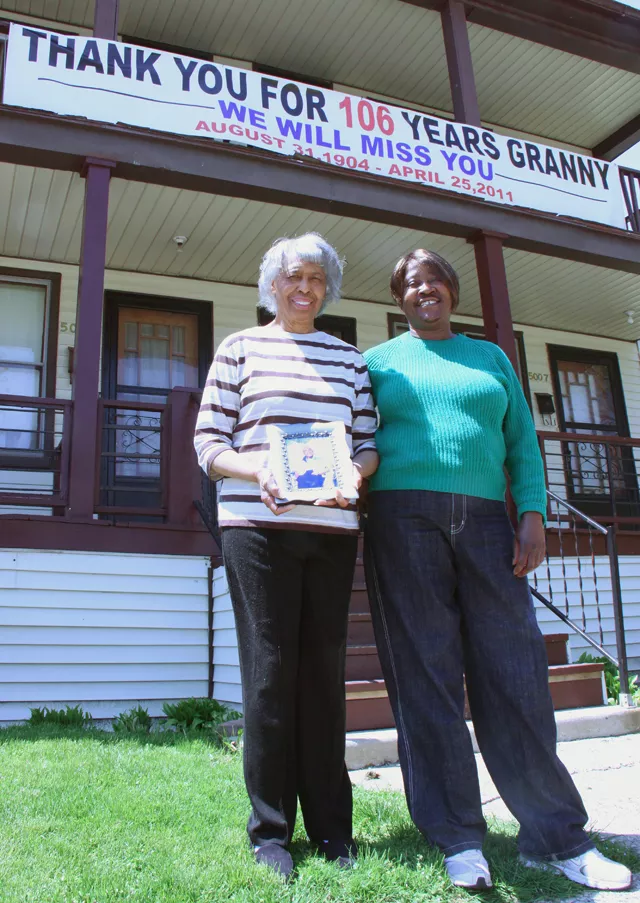 The family hung the banner again this year, but this time it was different.
When Virginia Spencer's relatives started doing it six years ago, it was to celebrate the noteworthy milestone of the family matriarch's century on earth.
They strung it along the second-floor iron balcony of their east side duplex, announcing to the drivers heading downtown on East Warren that Mama, as everyone called her, had made it to her 100th birthday.
That first year, Mama wasn't happy about it. "She said, 'I don't like the idea very well,' but anyway we put it up and everybody thought it was just grand," says Dorothy Ziegler, Spencer's 78-year-old daughter.
A "Happy Birthday" banner went up every summer after that for another six years, each one noting how old she was, each one signaling a further triumph over age, illness and time. This April though, Spencer was admitted to the emergency room and never discharged, and she passed away in a hospital bed, several miles from home, in an unfamiliar room.
"She just went on away in peace," says Betty Seay, the 54-year-old neighbor who wound up being Spencer's caregiver in her final years. "It was like she was just sleeping. She had on her powder blue and stuff. She was just peaceful."
As the family gathered to mourn Spencer's death, a cousin came up with the idea of one more banner, to let all of Mama's friends and well-wishers know that there wouldn't be another birthday celebration this summer. When the printer they'd used heard she died, he came to work on Sunday, his day off, just to make the final banner for the family.
It read, "Thank you for 106 years Granny. We will miss you."
Once it was strung up a few days after her death, friends and neighbors and strangers saw it and came by to offer their condolences. A truck from the nearby fire station pulled up and blared its siren, and the firemen, who knew Mama from taking her to the hospital over the years, got out to pay their respects.
Something about the banner drew people to her in her last years. "People would come from all over and they'd be talking about the banner," Ziegler explains, "and my cousin said, 'It's only fair to put something up, let the people know, 'cause they have been looking for it every year. You owe that to them.'"

The banner became somewhat of a local cultural phenomenon over the years. People from the east side and the west side, people from the Grosse Pointes, people from as far away as Flint would make the journey to see if the banner made it up another year, thus showing that Mama had cheated the odds once again. Neighbors would stop by on her birthday with presents, passers-by would pull up and take pictures of the house, strangers would knock on the door and introduce themselves.
"You would be surprised," Ziegler says. "They would come by and say, 'We had to get our courage up to come up,' and I said, 'Oh you're welcome,' and my mother would talk to them." They'd bring birthday cards and food platters, and bring their little children into the house to meet her, to show that there is hope of having more time than most people are granted.
She got congratulatory letters and plaques from Detroit mayors, from council members, from the governor herself one year.
Word spread. Ziegler once went to an appointment with her doctor, and when the receptionist heard she was from the east side, she told Ziegler that she should check out this one house on the corner of East Warren and Holcomb, where a banner hangs to celebrate the city's reportedly oldest grandmother.
"She said, 'Ms. Ziegler, you should see it. It is awesome.' And she said, 'Every year I look for it. People far and near know about it.' And I said, 'That's my mother!'"

Virginia Spencer was born in 1904 in Seneca, S.C., made stops in Atlanta and Washington D.C., and wound up in Detroit in the mid-'60s. She was working at a dry cleaner at 14 years old when the fingers on her right hand got caught in a machine used to press sheets, and the bones were crushed.
Some hack doctor wrapped the fingers too tight — it was the Deep South after all, and a little black girl's injuries likely didn't merit much care — and when the bandages came off the fingers and the hand had become infected. Her arm had to be amputated up to the elbow.
Still, she learned how to drive, how to wring out a wet quilt, how to change diapers with one hand, because she refused to wear an artificial arm. She eventually got herself a truck that she used to collect bundles of paper and stacks of old cardboard and sell them for pennies to eke out a living.
"She refused any welfare help," Ziegler says. "Mama was a very independent woman and there were times I wish she was on the welfare. Everybody else was on the welfare around us, but I understood, and she ingrained into us that dignity."
A couple of years ago she'd developed dementia and lost nearly all her sight, and grew irritable. But even after she turned 100 she'd bake cornbread for the family, or barbecue pork chops on a grill out back, or pass the time watching Jerry Springer, her favorite show.
"My son and her would be up here, and she'd say, 'Eric, it's time for Jerry,'" Ziegler says. When Eric died of the flu a couple of years ago, Spencer used her fading mind as an excuse to tune out the world, her family believes.
"That took a lot out of her, but she kept it in," Ziegler says of her son's death. "I thought maybe she didn't understand he was dead, but I found out she did because she would talk about him to Betty when I wasn't around, but she said very little about him when I was there."
Spencer and Seay the caretaker grew very fond of each other in their time together. "The night before she passed she said, 'Betty take me home.' I thought she was talking about here home, but she was really letting us know that she was ready to go," Seay remembers. "I think she knew then, 'cause she was just nice and peaceful."

They're still getting used to Mama's absence from the house. It takes time to break old habits, like checking in on her bedroom to make sure she's OK, cooking meals for her, letting her know her favorite TV shows are on.
"I would get up, and by the time I get to Mama's room I'd know Mama's not here and I'd catch myself, so I'd play it off and go up to the front like I was looking out the door," she says, and then points at Ziegler. "I didn't want her to know what's going on."
The house still has Mama's fingerprints all over it. A photo of Mayor Coleman Young, her favorite, still stands on a shelf, wrapped in plastic the way some elderly people wrap all sorts of things in plastic. A painting of a dark-skinned Jesus still hangs on the wall. And her old soft chair still sits in front of the television.
The family plans to rehang the goodbye banner again this August, from the beginning of the month until Aug. 31, Mama's birthday. Then it comes down forever.
It'll be the final nod toward a life that, like so many anonymous lives in the city, touched people in countless ways, from the firemen who came by one final time, to the printer who came in on his day off to make one last banner for her, to the strangers the family just knows will come knocking again in August, wondering where Mama is.
The family says she'll still be there in a way. "She all around us right now," Seay says. "Everywhere you look, it's Mama, it's Mama. It just feels like she's still right here, you know what I'm saying? This used to be her chair, but I can just sit in this chair, it just feels so calm, at ease. Just like she's got her arms around me."