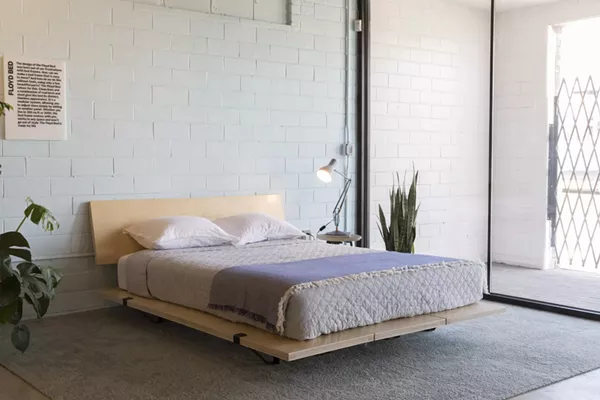 If the thought of assembling yet another piece of garbage Ikea furniture is enough to send you into an emotional tailspin, you're going to want to pay attention. Floyd, a Detroit-based furniture company, has quickly gained a following by creating inventive solutions to problems many young people face when they begin the lifelong task of amassing a collection of items to sit on.
Those problems include, but are not limited to: furniture is expense, but is generally garbage; even college graduates have a hard time assembling said expensive garbage furniture; and lastly, furniture is hard to move.
But, no more! Floyd is the answer. The company makes "beautifully designed," simple-to-build, and long lasting furniture. And by furniture we mean a table, side table, and a bed frame. Hey, it's a new company.
Anyway, the Detroit-based company got its start operating out of a headquarters in Corktown, where it began to amass a loyal Instagram following thanks to an innovative bed frame.
Until now, you could only purchase their wares online, which is cool, but being able to touch something before you buy it is becoming a rare thing these days, so they're opening a shop in Eastern Market.
Patrons will be able to purchase items from the store, and as a means of proving how simple these pieces are to assemble, there will be a "table station with a large timer that challenges customers to put the piece together in record time — which typically takes under three minute."
Floyd furniture pieces run from $160 for a side table to $699 for a California king bed frame.
The shop opens to the public Saturday, March 31 and is located at 1948 Division St., Detroit.
For more info, go
here
.
Stay on top of Detroit news and views. Sign up for our weekly issue newsletter delivered each Wednesday.