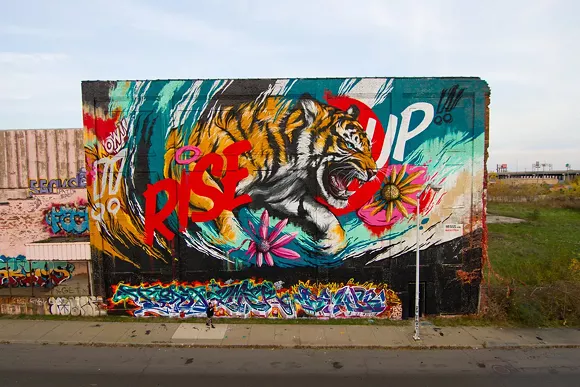 Today, Detroit-based fine art print house
1xRUN
and Eastern Market Corporation announced the inaugural
Murals In the Market
festival, which will see more than 45 local and international artists creating large-scale works in the historic district.
Though the festival doesn't officially kick off until September, organizers will formally announce the full roster of participating artists and other details at 10:30 a.m. Tuesday, July 7. They'll also debut a new mural from Australian artist Meggs (who painted the tiger and the words "Rise Up" in Detroit's Russell Industrial Center district
last year
). The announcement event will be held at Eastern Market Corporation, 2934 Russell St., Detroit.
The festival, scheduled from Sept. 17-25, is also set to include discussion panels featuring artists and local farmers, a cultural tour led by the Slow Roll bike tour, a film premiere, block party, and other events. Additionally, Murals In The Market will host an "Adopt A Mural" program, where local businesses can sponsor an individual mural. More information is available on the festival's
official website
.
In recent years, 1xRUN and its Inner State gallery have helped facilitate more than 100 murals throughout Detroit, including
recent projects in Southwest Detroit
. Read our 2013 story on 1XRUN
here
.