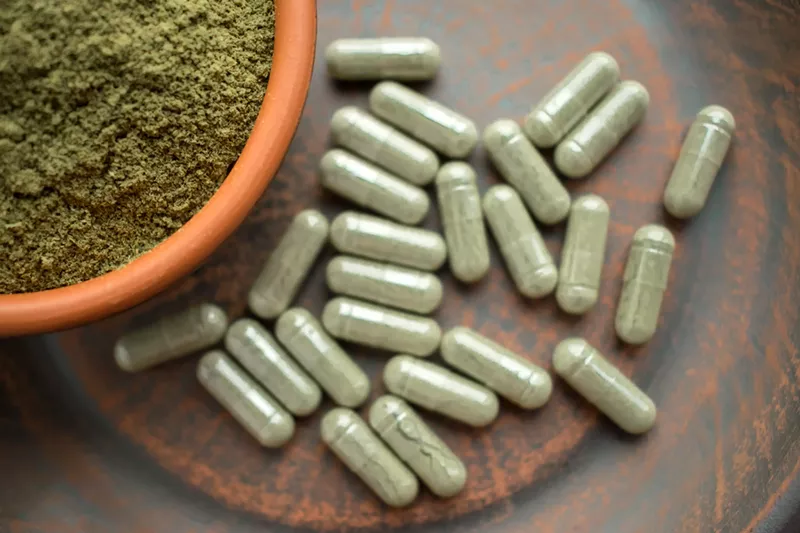 A plant substance known as kratom remains legal in Michigan, but metro Detroiters are beginning to question its effects.
At the beginning of the month, Troy police issued a warning about the substance and within the same week, on May 8, Matthew Dailey, 36, of Royal Oak, was sentenced to two years in prison for illegally smuggling the substance and selling it unlawfully.
Kratom (Mitragyna speciosa) is a tropical tree found in southeast Asia that users consume in a capsule or powder form. Long used as an energy supplement and pain reliever, the plant has been used in recent years by opioid users, who say it has helped them curb their addiction. The Food and Drug Administration has warned that the drug can be dangerous, however. Side effects of the substance that have been reported include hallucinations, seizures, and some symptoms of psychosis.
In the state of Michigan, gas stations and stores cannot sell kratom products to minors. The Troy police department is now asking gas stations and smoke shops to temporarily stop selling it entirely until state or federal regulations are put in place.
WDIV Local 4 reported on May 3 that Troy police are describing it as a "dangerous substance" and that it's "essentially a drug." Judge Maureen McGinnis said in the report that she has had people in her courtroom who have been addicted to kratom.
"The consequences are real," McGinnis said.
The news outlet also reported that the Troy police department wants to organize community seminars for residents to inform them about the substance.
It is estimated that several million Americans are believed to use kratom, according to The New York Times.
Dailey pleaded guilty to one count of introducing misbranded drugs into interstate commerce and one count of importing merchandise contrary to law. He agreed to forfeit $1 million in illegal proceeds.
As the owner and operator of Nomad Botanicals, Dailey made online transactions with customers who purchased kratom.
Dailey admitted to mislabeling his kratom products as incense and paint pigment, along with other items that were not meant for human consumption. He did so to skirt his way around the Food and Drug Administration's Food, Drug, and Cosmetic Act.
When administering the substance to online customers, Dailey failed to provide directions for use of kratom, such as dosage instructions and contraindications.
Last spring, three Michiganders had been infected with salmonella linked to kratom use, as reported by The Detroit Free Press. The Federal Drug Administration and the Centers for Disease Control and Prevention administered an investigation of the multi-state outbreak, and found that kratom was a "likely source of this outbreak."
Stay on top of Detroit news and views. Sign up for our weekly issue newsletter delivered each Wednesday.