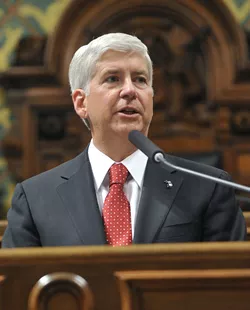 Gov. Rick Snyder released a statement today calling for more time to make a decision to potentially close 38 low-performing schools. The news follows a letter from five Congressional Democratic
urging the Governor to consider other options
.
The Governor said his School Reform Office was working with the Michigan Department of Education to pursue other solutions, and issued a May final deadline.
"The entire team at the School Reform Office has worked diligently to analyze data, visit schools and review potential options, but we need to do more before any final decisions can be made," Snyder said in the statement. "Any action we take will have long-lasting consequences and we need to take the time to get this right."
State law requires that the bottom 5 percent of all schools are identified as Priority Schools, which must then submit redesign plans. In his statement, Snyder mentioned possibly replacing the law that govern the SRO.
Of the 38 schools low-performing schools, nearly two-thirds are located in Detroit. If they remain in the bottom 5 percent for three consecutive years, they are eligible to be closed.
During Snyder's recent State of City address, Duggan said he's "strongly opposed the state school reform office's proposed closure" of the low-performing Detroit schools, and acknowledged the district's school board — newly elected after years of state-appointed emergency management — hasn't had time to address the problem.
"We have 110 thousand school children in this city. Which means we need 110,000 seats in quality schools," he said. "Closing a school doesn't add a single quality seat, all it does is bounce our children around from place to place ... before you close a school you need to make sure there's a better alternative."
A recent report by Detroit-based research team Loveland Technologies documented
the devastating results school closures can have on neighborhoods
.