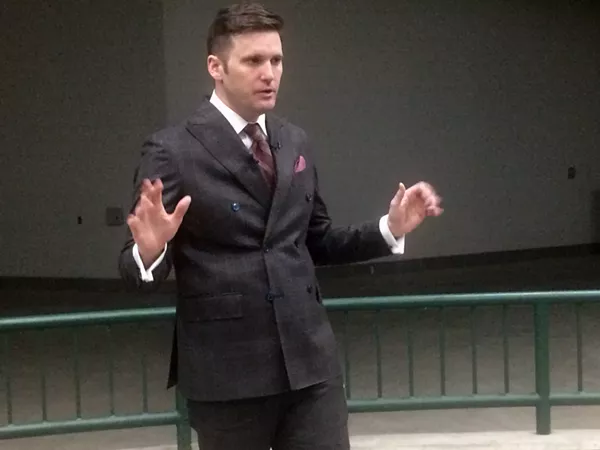 White supremacist Richard Spencer says he plans to rethink his public speaking strategy in light of the violent clashes that marred his visit to Michigan State University last week.
In a video uploaded to AltRight.com's
YouTube
account on Sunday, Spencer says he expects future public events to involve a greater element of secrecy in order to avoid drawing attention from anti-fascists, who kept people from entering his talk last Monday.
"I don't think it's a good idea for me to host an event that's wide open to the public in which we name the date and the time," Spencer says. "If we do that in advance, Antifa are going to do their thing and if the campus police or state police or local police aren't ultimately willing to free up a corridor [to help people get in] then I don't simply want to repeat Michigan."
Spencer, who advocates for turning the U.S. into a whites-only ethno state, has held speeches at Auburn University, Texas A&M, and the University of Florida. On YouTube, he attributed the heightened tensions surrounding his college tour to the events in Charlottesville, Va. last August, where the alt-right held its infamous tiki torch rally and a participant killed a protester the following day.
"The idea of a college tour is going into the belly of the beast … into totally academic-Marxist controlled territory and giving a speech that introduces the basic ideas of identitarianism and the alt-right," Spencer says. "When they become violent clashes and pitched battles they aren't fun."
Spencer had, until recently, been hoping to hold a talk at the University of Michigan. According to
MLive
, the school said in January that it would not host Spencer this semester, but would consider his request to rent space to speak on campus for a later date.
While it's unclear whether Spencer will continue to try to hold public talks on college campuses moving forward, he did maintain his commitment to bringing his movement out of the shadows.
"I don't have a solution to this problem," he says. "But I do think there are ways of continuing to engage with student bodies around the country, with faculty, with the general public, with doing things publicly but doing them in a different way."
Stay on top of Detroit news and views. Sign up for our weekly issue newsletter delivered each Wednesday.