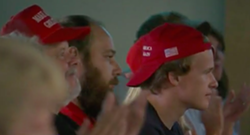 Many Michigan Trump supporters are coming to the defense of the president as he faces growing criticism for his divisive rhetoric following a white nationalist rally that turned deadly in Charlottesville, Virginia over the weekend.
After a
jaw-dropping Tuesday press conference
in which President Donald Trump said there were "some very fine people" who partook in the rally aimed at, but not limited to, fighting the removal of a statue of Confederacy icon Robert E. Lee (the tiki-torch wielding white supremacists also shouted "Jews will not replace us"), at least 200 people gathered in Howell to show their unwavering support for Trump. (Yes, Howell, the Michigan city perhaps most closely associated with the Ku Klux Klan as the former home of one of the group's grand wizards.)
Video posted to the
Michigan Trump Republicans
Facebook page shows a group of all white folks, some clad in Make America Great Again hats and Trump T-shirts, chatting around a banquet hall at the
Block Brewing Company
Tuesday night. Michigan Trump co-chair Meshawn Maddock, the woman behind the cell phone camera, describes the turnout as "incredible," as she had only expected 50 people at the event that was planned in advance of Trump's inane remarks.
"I got emotional today listening to him being attacked and calling out the fake news," Maddock says in the video from the Tuesday night event. "If you can get an idea of this crowd, you know the overwhelming support that our president has."
State Senator Joe Hune, a Republican who represents Hamburg Township, was also on hand.
"It's really a message to the White House to say, 'President Trump we got your back,'" he told
WLNS-TV
, adding that those who oppose the president's remarks following the attack in Charlottesville are focused on "mere semantics."
"He came out and said this is terrible, this is awful, we don't condone this, lets disavow this, maybe it wasn't strong enough," said Hune. "The opposition no matter what he would say... they would still be opposed."
Meanwhile, not a single post on the roughly 1,000-member-strong pro-Trump Facebook group to which the video was uploaded has been critical of the president following what happened in Charlottesville. Supporters have instead linked to video of Trump's divisive Tuesday remarks with comments like "Tell em' Mr. President!!!!!!! #MAGA" (Make America Great Again). They've also
posted false-equivalency memes that mock the notion of taking down statues of Confederate leaders-turned-racist icons.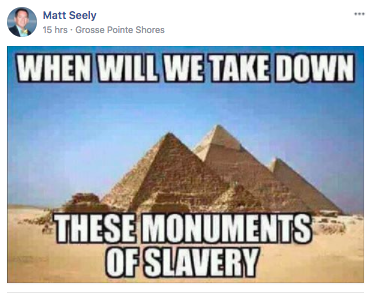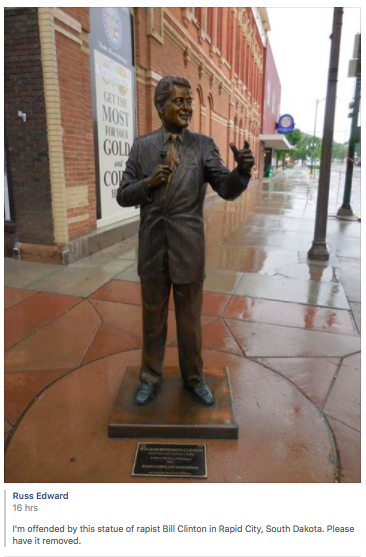 Separately, it is worth noting that a couple of Congressional Republicans from Michigan have come out against Trump following his remarks. Justin Amash, of Michigan's 3rd congressional district, took to Twitter with a clearly-worded statement, while Dave Trott, who represents Livonia, suggested Trump ... play more golf.
"Very fine people" do not participate in rallies with groups chanting racist and anti-Semitic slogans and displaying vile symbols of hate.

— Justin Amash (@justinamash) August 15, 2017
I think America needs more unity and less divisiveness...meaning @realDonaldTrump should focus more on golf & have less press conferences.

— Dave Trott (@repdavetrott) August 16, 2017
A rundown of other Republican lawmakers who've bucked Trump since his comments is available
here
.