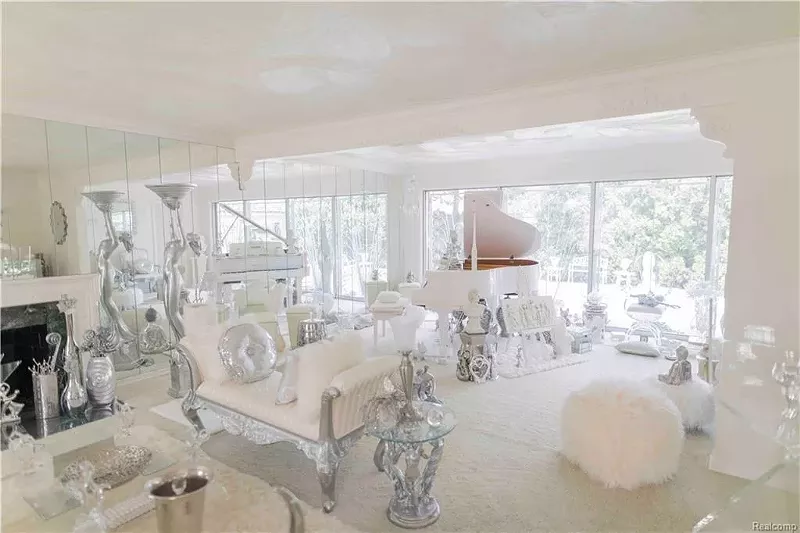 Come with me and you'll be in a world of pure imagination — rather a world of lush and lavish interior decoration. And lions —
lots
of lions.
Welcome to Lion Gate Estate — the most curiously designed and decorated home in Detroit. Built in 1951, the 1,886 square-foot home
owned by industrial designer Ronald Nassar
has been known to stop traffic over the years. Located at 450 W. Grixdale, Lion Gate Estate is fenced-in with a plethora of fountains and lion statuary. The sale of this unique home finally gives gawkers a glimpse of the wonderfully weird interior and its contents, all of which come with the purchase of the home.
For the asking price of $550,000, the three
bedroom
, four-ish bath home is equipped with several luxuries — for one, a heated, in-ground swimming pool complete with a cabana and outdoor shower. The custom two-car garage is decked out in hand-painted murals and includes a one-of-a-kind custom built 1974 Lincoln Mark IV Coupe and 1966 Cadillac Fleetwood Sedan.
But those are just the big-ticket items. A true treasure trove, Lion Gate Estate is meticulously curated to each room's distinct "aesthetic" with fine-tuned details around each bend.
From the blindingly white living room (complete with a white baby grand player piano and fainting couches galore,) to the
Alice In Wonderland
garden-party style kitchen, to the '70s heavy wood-paneled den with crocheted ceiling to the billiard room with a custom built pool table to the home's excessive use of mirrored walls, no cluster of adjectives could do Lion Gate Estate justice. It just has to be seen.
Take a tour here.
Stay on top of Detroit news and views. Sign up for our weekly issue newsletter delivered each Wednesday.