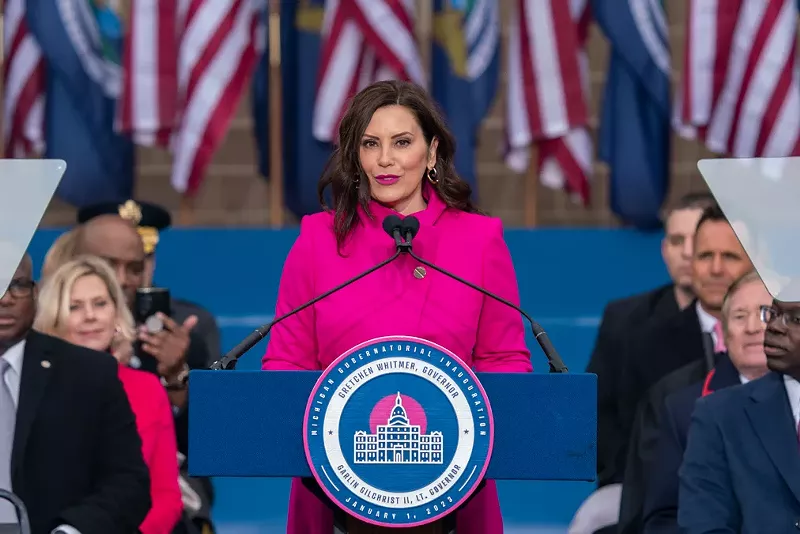 Despite holding a trifecta of power for the first time in 40 years, state Democrats say they aren't taking their newfound power for granted and downplayed Michigan's perception as a Democratic stronghold.
"No! Michigan's not a blue state," Gov. Gretchen Whitmer recently told the New York Times.
She added, "It would be a mistake for anyone to look at that and think Michigan is not still a tossup, very competitive, very diverse state that's going to decide the outcome of the next national election again."
Democrats that the NYT interviewed said their power comes thanks to changing demographics in the state but also from Republicans who think their party has gone too far to the right since the rise of Donald Trump. The Michigan GOP is now helmed by Kristina Karamo, the former secretary of state candidate who has promoted conspiracy theories such as claiming the results of the 2020 election were "a fraudulent process" and refused to concede.
"The state Republican Party is not reflective of the average Republican in Michigan," Whitmer said. "I don't think that everyone's all of a sudden become Democrats."
That was echoed by former Republican U.S. Representative Dave Trott, who now identifies as an independent and like others in the GOP supported President Joe Biden in 2020.
"The Republican Party in Michigan is dead for the foreseeable future," he said. "Even if the right people were in charge, the MAGA movement is such that any candidate that would be more acceptable to a general electorate can't win the primary."
Still, Michigan Democrats have seized on the opportunity to push a liberal agenda, including repealing Michigan's so-called union-busting "right-to-work" laws, expanding civil rights protections for the LGBTQ community, and pushing for expanded background checks for gun purchases and striking Michigan's 1931 abortion ban from the books.
The Democrats' gains in Michigan have helped make Whitmer a national star and a favorite straw poll presidential candidate for 2024 or beyond, but Whitmer told the NYT that she plans to stay in the Great Lakes State for the foreseeable future.
"I have made a commitment to the people of Michigan, I'm going to do this job till the end of this term," Whitmer said, though she seemingly kept the option open.
"I think that this country is long overdue for a strong female chief executive," she added.
Correction: Kristina Karamo ran as the Republican candidate for secretary of state, not attorney general.
Coming soon: Metro Times Daily newsletter. We'll send you a handful of interesting Detroit stories every morning. Subscribe now to not miss a thing.

Follow us: Google News | NewsBreak | Reddit | Instagram | Facebook | Twitter