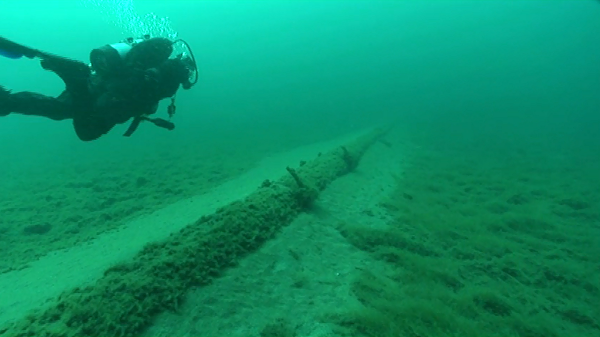 You can now trace a line from the oil coursing through a precarious pipeline beneath the Straits of Mackinac all the way to an attack on an effort to end gerrymandering in Michigan.
In a just-published report, the
Detroit Free Press
connects the dots between
Line 5
owner and operator Enbridge, the Michigan Chamber of Commerce, and
Citizens Protecting Michigan's Constitution
, a conservative committee fighting a ballot initiative to redraw Michigan's voting districts. The Freep reports Enbridge contributed $125,000 to a political action committee associated with the chamber last October — a donation that makes up more than half of the contributions the PAC has received so far. Days later, that chamber PAC gave $35,000 to Citizens Protecting Michigan's Constitution. In February, the chamber PAC gave an additional $100,000 to the committee.
Citizens Protecting Michigan's Constitution is working to thwart the redistricting proposal by Voters Not Politicians, claiming that the changes it would trigger are so significant they necessitate a constitutional convention. The initiative, which could go before voters this fall, would have district lines redrawn by independent citizens so they don't benefit any particular political party over another. Michigan's current districts
were drawn in such a way
that they favor Republicans.
Enbridge, however, says it has no position on the anti-gerrymandering initiative. After the Freep report was published, the company released a statement saying it "has contributed no dollars toward any efforts to support or oppose this initiative."
The oil company's contributions to the Michigan chamber's PAC may in actually have had more to do with keeping Line 5 in operation. Last May, a ballot committee launched an effort to put a proposal to shut down Line 5 before voters, and a 180-day window in which it might have gathered enough petition signatures to advance the proposal would have been coming up right around October, the time Enbridge made that big contribution to the Michigan Chamber of Commerce.
The chamber has
come out against the Line 5 proposal
and likely would have donated to an opposition effort had the proposal appeared as if it could make it to the ballot. But Jeffrey Hank, the activist and lawyer behind the shutdown plan, says his committee was unable attract support from big environmental groups and has therefore struggled to gain momentum. In a phone call Monday, he said it was unlikely the initiative would appear on ballots this fall, citing a lack of petition signatures.
This story was updated at 9:50 a.m. on May 8 to add comment from Enbridge.
Stay on top of Detroit news and views. Sign up for our weekly issue newsletter delivered each Wednesday.